*This post may contain affiliate links. As an Amazon Associate we earn from qualifying purchases.
One of the main reasons why some people don't exercise is time. Because of this, home gym equipment has become increasingly popular. Exercise machines like the Golds Gym 450 treadmill give people the best of both worlds. Purchasing a treadmill offers you the ability to get in and stay in shape, all while never leaving your house. However, you won't be doing that on a brand new 450 for much longer, as it has been discontinued.
Not to worry though, not only have you found a comprehensive review of the Golds Gym 450 treadmill, we went even farther. Gold's Gym offers other, often much better and reliable treadmills. Whatever you are looking for, whoever you are, there is likely a great fit for you.
The convenience of having a home gym is second-to-none. Imagine getting in a 30-minute workout while you watch television, or wait for dinner to cook. There are many advantages to owning a personal workout machine. It's also affordable. The one-time cost for a treadmill will save you tons of money on a gym membership. Then factoring in the savings in time makes it worth the initial expense. No more traffic and no waiting in line at the gym for a machine.
The Key Features Of The Golds Gym 450 Treadmill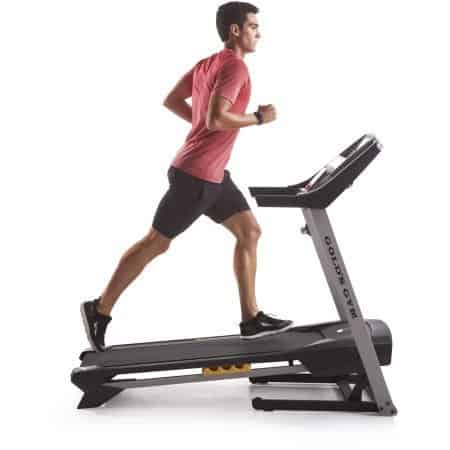 Gold's Gym has been a top leader in the fitness industry for over fifty years since 1965. However, as more people began to invest in home exercise equipment, Gold's Gym memberships fell. The company started making and marketing branded home exercise machines. The treadmills used in Gold's Gym are of higher quality than the ones available for home use, but retail machines offer similar options and are more affordable.
The Golds Gym 450 treadmill comes with six pre-programmed workouts that automatically adjust to the speed and incline determined by your weight goals. The computerized controls offer the option to program specific information into the treadmill computer for each workout. These options include setting the desired duration of the workout, the user's weight, and the number of calories they want to burn.
The 450 treadmill model is an entry-level machine designed for walking and light jogging. If you like a more intense workout, it contains quick-speed technology which allows you to increase to 10 mph with the push of a button. Additionally, there's a CoolAir fan on it that gives you a breeze during your workout.
Unfortunately, the 450 treadmills were discontinued because of advancements in the home exercise equipment industry. The 450 remains a viable machine for home use and is available used and new through some retail venues.
The Pros And Cons
The greatest thing about Golds Gym 450 treadmill is the affordability. On the other hand, the quality of the machine isn't as sturdy and dependable as some other machines. The motor on the treadmill is weak and low powered. And unfortunately, if it breaks, it's difficult to repair. This machine is not for vigorous exercise. It's best for light workouts only.
How We Reviewed
Although Gold's Gym is a trusted brand, our objective was to find out if their equipment is worth the investment. We gathered all of the information about the features of each treadmill and how they compare to one another. And more importantly, we read through customers reviews to get unfiltered insight on what users thought about the machines. Our final decision on the best treadmill was determined by evaluating the equipment with the most practical features and best customer satisfaction ratings.
Comparison Table
[amazon box="B07D18GYTT,B002KV1MJU,B07D1C8WSJ,B07MLRBCZS" template="table"]
The Golds Gym 450 Treadmill vs Other Models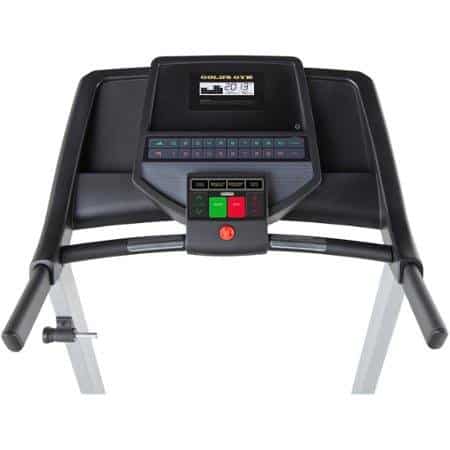 The 450 treadmill isn't the only model that Gold's Gym has manufactured. There are a few different machines made by the brand that are more durable than the 450 and include more high tech components and features. Some models are available for purchase at multiple retailers including the Gold's Gym website.
We compiled information to compare their different machines to the Golds Gym 450 treadmill. Hopefully, this information will help you make an informed decision about which equipment is right for you.
[amazon box="B07D18GYTT"]
This first model, with heart rate monitoring, helps you maximize your results through heart rate training. The grip sensors send precise heart rate readings to the display monitor to help you stay on target. It also contains Airstride Plus cushioning to help reduce the impact of your steps and prevents pain in your joints. The machine also allows you to increase the level of incline by 10 percent with just a push of a button. Incline training helps to burn more calories and pinpoint specific muscle groups as you exercise.
The 520 model also includes a SpaceSaver design with EasyLift Assist. These features allow you to clean, transport and put away your machine with ease. The SpaceSaver design enables you to fold your treadmill so you can have additional floor space. And the EasyLift makes lifting your machine effortless.
[amazon box="B002KV1MJU"]
The Marcy is one of the more popular models, and it's also available through multiple retailers. This model incorporates iFit Bluetooth capabilities, so if you have an iFit membership, you can connect it while using the treadmill. It allows you to use your smart device to access Google maps workout routes and automatic stat tracking. Plus, it's compatible with the iPod sound system so you can listen to your exercise playlist while you sweat off the calories.
This equipment comes with a five-year warranty for the frame and motor. It also includes a 90-day warranty for parts and labor. You can purchase it at Walmart, Amazon, or the Gold's Gym website.
One of the downsides to this machine is that it only accommodates up to 300 pounds, so for those who weigh over that amount, that could be a problem.
[amazon box="B07D1C8WSJ"]
The 420 model is the new and improved version of an old treadmill model. It comes with a shock-absorption system that helps reduce the impact on your joints and prevent damage. The LCD monitor includes a racetrack that allows you to keep track of your time, speed, distance, and calories burned. And just like the other models, it also comes with the SpaceSaver design that allows you to store away the equipment.
There are 16 preloaded workout apps within the 420 model which were designed by a professional trainer. The 420 treadmill is sold exclusively on the Gold's Gym website. It includes an enticing five-year warranty for the frame and motor and 90 days for the parts and labor. This machine has loads of cool features and provides an incredible workout experience. However, this model also has a 300-pound max, which might be an issue for some users.
[amazon box="B07MLRBCZS"]
This last treadmill is a bit more expensive than the others on the list, but it gives you more bang for your buck. It comes equipped with two additional workout apps. It has an integrated audio system that connects to your iPod or MP3 player. The speed control on the treadmill allows you to mix up your workout and change the intensity as you exercise. And, the heart rate monitor contains sensors that send accurate heart rate readings to the display to help you keep track.
It is available for purchase through multiple retailers including Amazon, Target, and of course the Gold's Gym website. But unlike the other models, the 720 comes with a lifetime warranty for the frame, 25-year warranty for the motor and a year for the labor and parts.
Our Verdict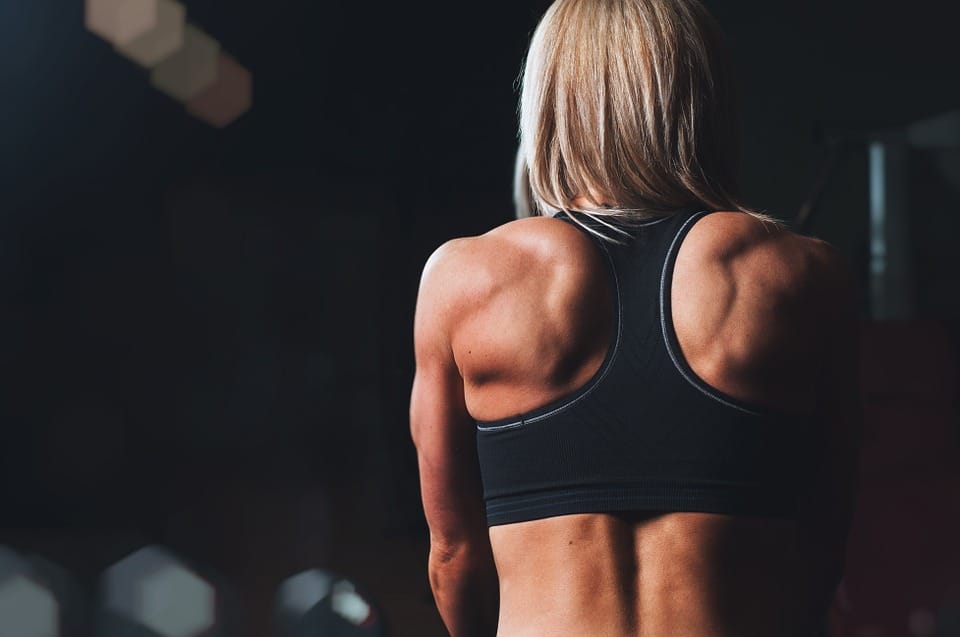 There's no doubt that Gold's Gym has the expertise to design a state-of-the-art treadmill. But of course, each machine serves its purpose and fits a particular preference. After reviewing the features of each machine, and reading customer reviews, we felt that the Gold's Gym 720 Trainer Treadmill model was the best. It does cost a bit more, but we think that it's worth every penny, primarily because of the warranty.
Anything can happen, and it's best to have an extended warranty. Exercise equipment is prone to wear and tear, so the additional money you spend will come in handy down the line. And most customers who bought the 720 had a positive experience, which says a lot about the quality of it. Overall, we felt as if the other treadmills didn't compare. What's your verdict?