*This post may contain affiliate links. As an Amazon Associate we earn from qualifying purchases.
Treadmills are popular cardiovascular equipment whether you are keeping in shape for a marathon or just want to stay fit. Even if you live in a climate where it's possible to run outside all year long, there are still some good reasons you might want to have a treadmill in your very own home. That's why we've taken a look at the Schwinn 830 treadmill and a few others on the market to help you decide the best treadmill for your needs.
Why Have a Treadmill?
Even if you love to run outside, there is always going to be a few times when it's just not convenient or possible. If you just been sick, you may not be ready for running in the outside. If you get an ice storm, or even if it's just damp and rainy, you might appreciate the freedom to run within your own home.Having a treadmill will also encourage you to use it. You can drive past the gym without even seeing it, but it's a lot harder to ignore the big machine sitting in your living room. Having your treadmill can also be convenient in other ways.If you hate getting exercise and find it boring to run, you can stick your home treadmill in front of the TV and watch your favorite shows while you work out. Before you know it, the show is over, and you've just done an hour of cardio.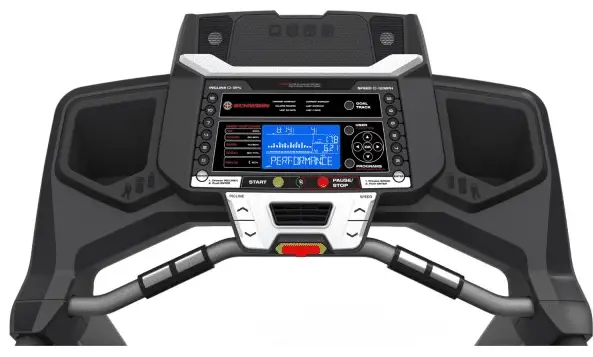 What Is the Schwinn 830 Treadmill?
The Schwinn 830 treadmill is a home exercise machine that folds up and for storage and unfolds to allow you to walk or jog on it. As treadmills go, it's easy to store, and although the price is below average, the performance is above average.This is a well-loved treadmill that consistently gets high rankings for durability and user-friendliness. The Schwinn 830 treadmill has particularly been optimized for walkers or joggers. It's not as good for runners, and that's part of what makes it less expensive than other models.
Product Specs
The Schwinn 830 features a 2.75 CHP belt motor and power incline up to 12%. There are 22 preset workout programs available for you to choose from. The workout area itself measures 55″ x 20″, and the screen is large and provides a lot of feedback. You can expect to see all the standard feedback options, such as the time you've been running, the distance you've gone, the calories you've burned, and specific goal tracking for up to four individual users.The Schwinn 830 treadmill also has a USB charging port and speakers within the console. The support tray should fit most mobile devices. The folding frame allows you to store it upright, and the belt is of great quality considering the price.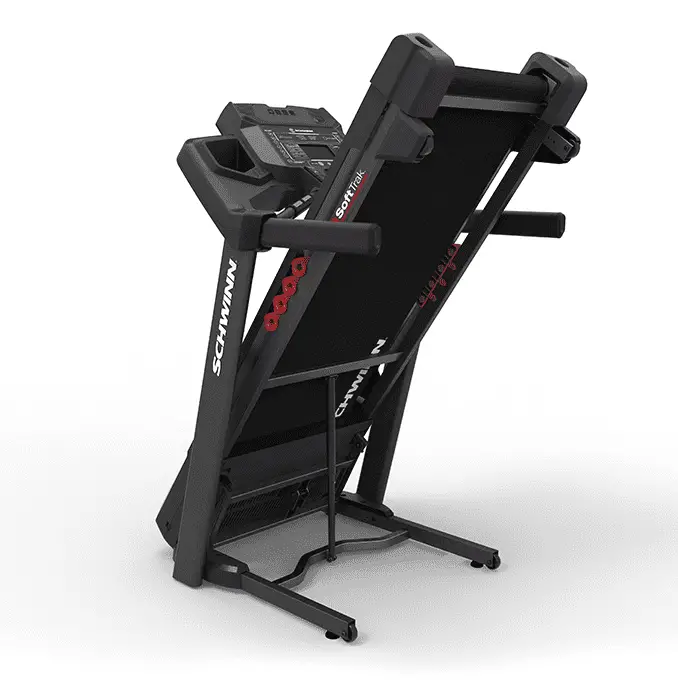 Pricing
You can buy the Schwinn 830 treadmill from a variety of online sites and sporting supply stores. Right now you can get one on Amazon, depending on the seller and whether or not you choose to have it assembled by professionals upon delivery. You also find it at Walmart or from Sears, Dick's Sporting Goods, and other similar stores.
How It Compares
There are lots of choices when it comes to treadmills, and we want to help you make the right choice. Some treadmills are best for runners, while others are optimized for walkers. Some emphasize electronics, while others concentrate on the incline or comfort. To give you an idea of what your choices are, we compared the Schwinn 832 treadmill and these models:
Sole F80 Treadmill

Confidence Power Plus Motorized Electric Treadmill

NordicTrack C 1650 Treadmill
Schwinn 830 Treadmill
[amazon box="B00KVZMC7I"]
Schwinn 830 Treadmill
This is an economical model considering the performance and the name behind it. For all the features that it has and the durability you can expect from it, the Schwinn 830 treadmill is a great price.
Ease of Use
It's easy to figure out what to do with this treadmill, and that's a good thing since the manual isn't all that clear about the features and functions. Some users complain about the two-step process necessary to adjust speeds, but that may not bother everyone.
Assembly Time
This treadmill is not too complicated to set up, but it's heavy and takes time. Expect to need at least two hours to get this set up. You might need a friend or two to get it where you want it in the house or to help you hold the heaviest parts during assembly.
Design Quality
When considering the quality of this machine, it's important to bear the price in mind. This machine has the size and functionality of treadmills that are twice as expensive. Treadmills of a similar price or cheaper tend to fall apart quickly. Compared to these, the Schwinn 830 treadmill is very well made.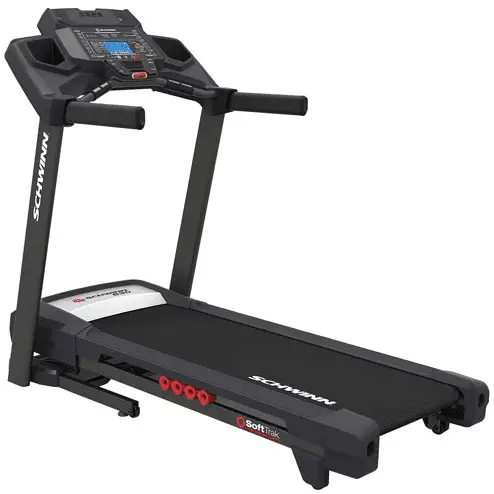 Warranty
Schwinn has a good warranty for this treadmill. You get 10 years warranty on the motor and frame, two years warranty for the electrical parts, and 90 days to send it back or address issues in build or assembly. Bear in mind that this treadmill is only for people 300 pounds or less. If you let it be used at higher weights, the warranty is void.
Pros
Excellent value for price

Folds away for easy storage

Simple to use

Clear, bright LCD screen

Good support and speeds for walkers and joggers

Preset workouts to help vary your routine
Cons
Assembly can be difficult

Assembly and usage instructions are unclear

The belt is not padded enough for running

Distance and speed information are not always accurate
Sole F80 Treadmill
[amazon box="B01DMZY0O6″]
Sole F80 Treadmill
This is a high-end treadmill originally designed for hotel gyms. This means the treadmill has to be movable, but also stable and durable. This treadmill has a steel-welded frame and features a three horsepower motor that can give you speeds of up to 12 mph and inclines up to 15%.The screen lets you track your progress and allows you to look at speed, calories burned, distance traveled, pulse rate, and pace. It even comes with a message board that walks you through usage until you're comfortable with your treadmill.With this treadmill you also get cooling fans, speed controls at your armrests, a 20″ x 60″ belt, and a folding feature so that you can save space in your home.
Ease of Use
This is simple and intuitive to use. It can take a few minutes to get used to all the bells and whistles, but once you do it will be easy to operate. The main complaints are usually that the fan isn't quite strong enough and the speakers are a bit too strong.
Assembly Time
As with any treadmill, expect this to be very heavy. It's probably a good idea to get a friend to help you put together. Expect to be able to assemble it in about an hour.
Design Quality
This is a more expensive treadmill, so you should expect an excellent product. This treadmill is rated for users as heavy as 350 pounds, meaning this is a better treadmill for those looking to lose some serious weight. The deck features Cushion Flex shock absorption, and an excellent warranty covers the whole thing.
Warranty
Warranties don't get much better than this: you get a lifetime warranty on the motor, frame, and deck. Electronics, the belt, and other components that wear out come with a five-year warranty. There's a two-year warranty on labor.
Pros
Rated for users up to 350 pounds

Smooth and gradual speed adjustments

Smooth incline adjustments

Runs quiet

Good support and speeds for walkers and joggers

Comes with an excellent warranty
Cons
Only comes with six standard programs

The folding function can be difficult for some

Heart rate strap is difficult to get on
Confidence Power Plus Motorized Electric Treadmill
[amazon box="B004TGWUPE"]
Confidence Power Plus Motorized Electric Treadmill
This is a lightweight machine that lets you walk or jog up to 6.2 mph. This is a true folding machine and is so small you can fit it under the average bed. It comes with a 600 W motor and automatically shuts off after 30 minutes.The workout area is only 38.5″ x 14″, and the entire thing weighs less than 50 pounds. There are no pre-programmed workouts, and there is no incline.
Ease of Use
On the one hand, this is pretty easy to use. You just step on it and go. In some ways, though, it's not as great as it sounds. For one thing, its size and shape mean you'll almost always have to pull it out and open it up to use it.The motor is so weak that it can't handle more than about 30 minutes of use at a time. And you can't use it if you weigh more than 250 pounds.
Assembly Time
This is a breeze to assemble. Although the instructions are a bit vague, there are only three knobs and four screws to this thing.
Design Quality
You get what you pay for, right? If you're hoping to use this as an everyday training machine, you're going to be disappointed. If you use it too much, you can expect the belt to start slipping and the motor to burn out. If you set it up in your office as a walking desk, you'll probably be pretty pleased as long as you keep things slow.
Warranty
It doesn't get any worse than no warranty at all, yet that's just what you get with this machine. No warranty: just some customer protection available for purchase depending on the buyer you go with.
Pros
Very inexpensive

Truly portable with a small footprint

Useful for office or occasional home use

Lightweight and easy to assemble
Cons
No incline

No pre-programmed workouts

Not suitable for users over 250 pounds

Not durable

No warranty
NordicTrack C 1650 Treadmill
[amazon box="B0193V3D8M"]
NordicTrack C 1650 Treadmill
NordicTrack is a big name in home treadmills, and the C 1650 is one of their latest offerings. With this treadmill, you'll get a 10-inch touchscreen that is web-enabled and connects to Google Maps and iFit Coach. The treadmill is quiet and strong with little vibration and two strong cooling fans.Plug your device into the console, and you can use the inset speakers rather than your headphones. The device comes with 34 pre-programmed workouts to choose from, all designed by personal trainers. The treadmill can handle runners as well as walkers and features an incline of 12%.
Ease of Use
Once you navigate all the intricacies of the touchscreen, you should find this an easy machine to use. The belt stays on well, it's comfortable to run on, and everything is pretty intuitive.
Assembly Time
This treadmill is difficult to assemble, and many users report that even the paid assembly people don't always do a great job. It's easy to put it together in the wrong way. If you choose to assemble it yourself, be sure to get help and set aside most of the day to do so.
Design Quality
When this machine works, it works very well and can be expected to last a long time. Some models have issues with the motor or screen and may break early on in the life of the treadmill. Expect NordicTrack to be on the ball about getting things replaced, however.
Warranty
The warranty is excellent. The electronics and parts are guaranteed for five years and the labor for two. The frame and motor have lifetime warranties.
Pros
Excellent fans and storage areas

Folds easily due to assistance hydraulics

Good cushioning for runners

34 pre-programmed workouts

Durable if it works initially

Lots of functionality in the web-enabled screen
Cons
Some models are defective and need replacement parts early on

Assembly can be difficult

Only rated for users up to 300 pounds
Conclusion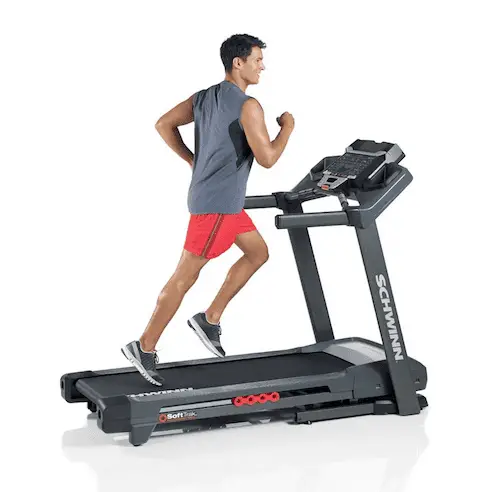 If you're looking for a small treadmill they can slide under the bed and serve you for that occasional workout when it's too wet to get outside, try the Confidence Power Plus. If it's important to you to have a lot of bells and whistles, the NordicTrack it is probably the trainer for you.We'd give it four out of five stars for durability and functionality. The Schwinn 830 treadmill is also a solid choice. It's affordable, durable, and good for walkers and joggers. We'd give it four out of five stars.For our money, however, you can't beat the Sole F80 Treadmill. It has fewer issues out of the box than the NordicTrack and is not complicated to assemble, it comes with an excellent warranty much better than the one offered by Schwinn, and it can be used by people up to 350 pounds.None of the other treadmills can handle that kind of weight. For that, we call the Schwinn 830 treadmill one the best of the bunch and give it five out of five stars.