*This post may contain affiliate links. As an Amazon Associate we earn from qualifying purchases.
Whether you are a veteran runner or fitness novice, motivation is the key to long-term success. For newbies, starting a routine can seem intimidating, and after a long day at work it's hard to resist the temptation to veg out on the couch. Veterans struggle to keep their routines fresh and improve on an already great fitness base. The FreeMotion 850 offers built-in motivation. With pre-programmed workouts for every level, this FreeMotion treadmill offers incline and decline settings, entertainment, and coaching, providing runners with a mountain of benefits at a low price.
What Is the FreeMotion 850 Treadmill?
The FreeMotion 850 earned its place as one of FreeMotion's most popular models because it offers customizable workout programs for all fitness levels, stores easily in small spaces, and comes at a reasonable price in view of its advanced features. It owes its popularity to its credibility amongst fitness enthusiasts. They like its interactive features, especially the terrain and incline/decline options.
One touch hand controls allow for quick tempo changes without the hassle of pressing buttons on an LCD display. Instead, runners up the tempo with a quick flick of the handle controls. No need to change hand positions when you want to challenge yourself with a tough interval or when you need to slow down now!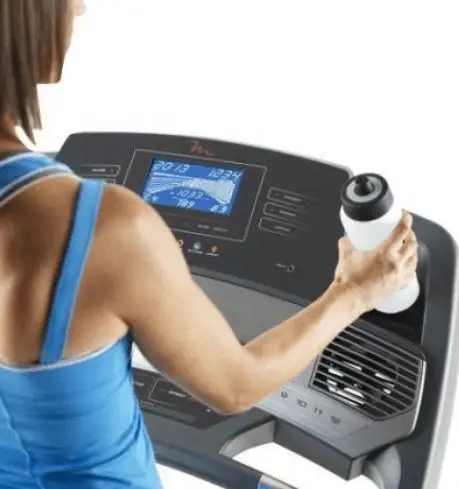 Owners of the FreeMotion Treadmill 850 model from many opportunities to challenge themselves. For example, few treadmills on the retail market provide such an easy-to-use decline option. To fully train your legs, you need training for flat-, uphill-, and downhill running. Downhill running uses muscles differently, and though gravity is on your side, your muscles will tire and cramp on downhills without exposure to down slopes.
The Freemotion 850 allows runners to take the decline to -3 degrees.  That's a huge benefit, whether you plan to run a hilly marathon or simply enjoy top-level fitness.
Runners can set a pace of up to 12mph, making the treadmill practical for speed workouts and endurance training. The FreeMotion 850 provides workout options for home-based runners of all levels. Its adaptability offers beginners easier options and educational training tools while allowing fitness gurus to improve on their already challenging routines. Here is a look at the features that contribute to its versatility.
Product Specs
Some runners like to set their own workouts, while others prefer workout routines created by coaches. The FreeMotion 850 allows those who want to try new routines to choose from 32 pre-programmed options. These routines help users boost fitness by engaging different tempos and terrain. For example, runners can take on hill workouts or flat workouts or a combination of each. Runners also choose the difficulty level of each workout. Not only does this allow for fitness boosting, it also keeps workouts interesting.
Even the most dedicated distance runner needs to spice things up, especially while training on a treadmill. This FreeMotion treadmill provides variety and new training techniques that keep runners eager for the next workout. Options include workout competitions, speed and endurance routines, and interactive training sessions with professional trainer Jillian Michaels.
Screen
Runners like the 7-inch LCD screen, which provides strong visuals for these programs. The interactive map option provides the user with the ability to set their workout to any location in the world. They can run the route of the Boston Marathon or any other challenging terrain. The treadmill will adjust the elevation accordingly, allowing for a fun workout that can be as challenging as you wish.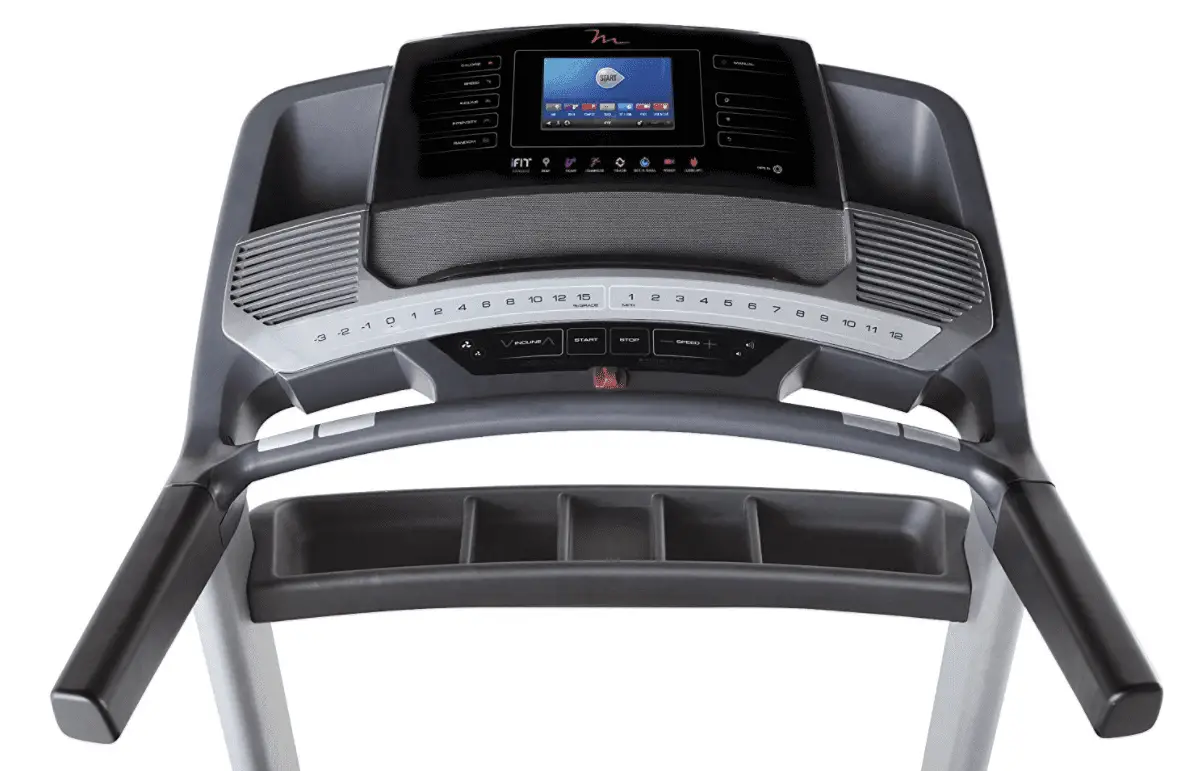 Connectability
iFit's popularity has been on the rise, and the Freemotion 850 hasn't been left behind. This Freemotion treadmill is iFit compatible. As those who already use iFit know, you reach your fitness goals faster with iFit. The program, which you can sign up for online, provides professional-trainer interaction, unique workouts filmed at incredible locations throughout the world, and even nutrition and sleep advice. Through the Freemotion 850 and iFit, you enjoy innovative workouts, variety, fellowship, and all the things you need to stay motivated.
Extras
Additional features include fitness-tracker handgrips that automatically monitor heart and calorie-burn rate. Also, the Coolaire fan keeps you comfortable while you ascend to new workout heights. Freemotion treadmill owners also appreciate the music pods for their iPads or other devices and essentials like the deep bottle holder and easy folding for storage.
Safety
The engineers also designed this FreeMotion treadmill to prevent injury. Most fitness experts agree that running is one of the best cardiovascular exercises, but it can take a toll on our bones, joints, and tendons. The 850's Surface Response Suspension eases impacts, making treadmill workouts on the 850 safer than running on sidewalks, trails, or tracks.The 850 is more than an alternative to running outside in traffic and bad weather. It offers unique features that help runners get fitter than ever before. These workout routines are fun and boost health. For those who want a fitness option that motivates them to burn calories, lower blood pressure, and have healthy cholesterol, the 850 provides the answer. It can also help runners knock some time off their next 10K or marathon.
Pricing
The price range on Amazon for a new Freemotion 850 Treadmill. Free shipping is also available. In addition, many local retailers carry the product in store. Freemotion also provides sales programs for health clubs, country clubs, and corporate wellness centers.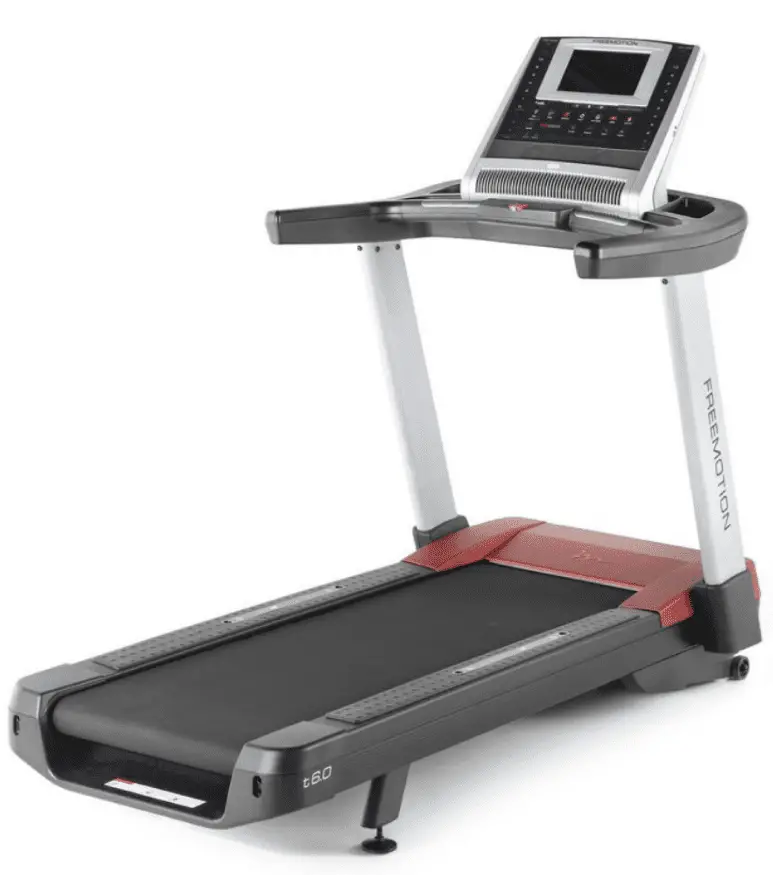 How It Compares to Other FreeMotion Treadmill Options
Though the FreeMotion 850 is a great product and awesome value, savvy buyers know comparison shopping is a must. Freemotion offers a wide treadmill line. All are solid products backed by a warranty. But which one is right for you? Below is a comparison between the 850 and three other Freemotion products:
FreeMotion Commercial Incline

FreeMotion 860

FreeMotion i11.9
FreeMotion 850 Treadmill
[amazon box="B00JVGNYWK"]
Ease of Use
Customers find folding and storing the treadmill easy. The interactive features on the LCD screen are also user friendly. Most of all, changing the settings is simple and causes no interruption to the workout.
Assembly Time
The average assembly time is four hours, though some users on Amazon report they completed setup in two hours. For those who lack the time and patience for assembly, professional assembly is available.
Design Quality
Customers report liking the space-saver design, lift assist, and rear roller. The two-ply belt and tread function optimally and provide a comfortable running surface. Some customers have noticed a squeak while operating. A mat placed under the treadmill often stops the squeak.
Warranty
Freemotion provides a lifetime frame and motor warranty, plus a 5-year parts warranty and 2-year labor warranty.
Pros
32 pre-programmed workout options

Interactive maps

iFit compatible

12 MPH speed capability

Incline and decline capability

Hand grip controls

Easy storage

Shock absorbent running surface

Great value
Cons
2—4 hour assembly

May have squeak
FreeMotion Commercial Incline Treadmill
[amazon box="B0032AK42Y"]
For a serious workout, the Freemotion Commercial Incline Treadmill provides the tough uphill climbs you need. Runners can easily adjust the incline up to 30% with the Quicktouch feature. This FreeMotion treadmill goes to 12mph, so runners can max out their workouts. The TV console provides entertainment and fitness data, such as heat rate, calorie burn, and vertical feet. As a commercial unit, it's built for low maintenance and durability.
Ease of Use
As a durable, maintenance-free unit, users love the ability to set it up and jump on easily anytime. The console is easy to operate and the settings are simple to adjust.
Assembly Time
The product weight of 600 pounds can make assembly a challenge unless you have multiple people to help. Refurbished units can be ordered fully assembled, but you still need to move the 600 lb. product. It can take two to four hours to assemble, assuming you have help. Without help, assembly or transport would prove difficult
Design Quality
Great durability! This treadmill will last many years and stand up to constant use. It costs more because it is built to last even if used all day, every day.
Warranty
Warranties for refurbished units depend on where you purchase the treadmill. Many offer 90-days parts and labor. On new units, Freemotion offers lifetime frame and motor warranties, 5-year parts warranties, and 2-year labor warranties.
Pros
Durable for years of commercial use

Maintenance free

12-inch video display

Video console adjustability

Incline to 30 degrees

Easy setting adjustment
Cons
600 lb. weight

Need helpers to assemble and transport
FreeMotion 860 Treadmill
[amazon box="B00JVGNYQ6″]
Runners love this FreeMotion Treadmill for home workouts. They can benefit from 34 pre-programmed workouts that run on a 7-inch LCD screen. It is also iFit compatible. With both incline and decline settings, runners can enjoy an array or workouts that get them in shape from head to toe. With speeds up to 12 MPH, everyone from a fitness jogger to hardcore marathoner can get the workout they need. It also offers a space-saver design and easy roller system, so this unit can be easily stored and transported around the house.
Ease of Use
The features are simple to enable. Folding and storing take just a few moments.
Assembly Time
As with the 850, expect two to four hours assembly time. With a 280-pound weight, this treadmill needs two people for transport and assembly.
Design Quality
There are many positive reviews from users. There are some complaints on Amazon about screen and belt issues. Most complaints came from refurbished unit owners with 90-day warranties. The new units have a much better warranty, as listed below.
Warranty
New units come with a lifetime frame and motor warranty, a 5-year parts warranty, and a 2-year labor warranty. Refurbished units may come with less.
Pros
34 pre-programmed workouts and 7-inch LCD screen

Easy to store

Incline and decline settings

Easy to adjust setting

12 MPH top speed
Cons
280-pound box weight

May have squeak
FreeMotion i11.9 Treadmill
[amazon box="B00XBMRGNI"]
This FreeMotion treadmill is built for the serious athlete. It offers a 12-inch LCD display with pre-programmed workouts that range from an easy warmup to a 30-degree incline, 12 MPH speeds, and elite-athlete maximum workouts. The i11.9 also provides ultra shock absorption cushioning, which is key for athletes who push themselves to the max. The decline feature allows athletes to train for downhill racing, a key component in speed training. For the tech savvy athlete, this iFit live and Google Maps enabled treadmill provides the motivation to power through.
Ease of Use
The large LCD display is a hit because it makes programming easy and provides great visuals.
Assembly Time
Average assembly time ranges from two to four hours.
Design Quality
For those who want sophisticated design features and quality, this is a good choice.
Warranty
This Freemotion treadmill comes with a lifetime frame and motor warranty. Parts are warrantied for 5 years and labor is warrantied for two years.
Pros
Incline and decline capable

Ultra shock absorption

12-inch LCD display

iFit and Google Maps enabled

12 MPH Max Speed

Pre-programmed workout for increased fitness and variety
Cons
Heavy box weight

More costly that the FreeMotion 850
Conclusion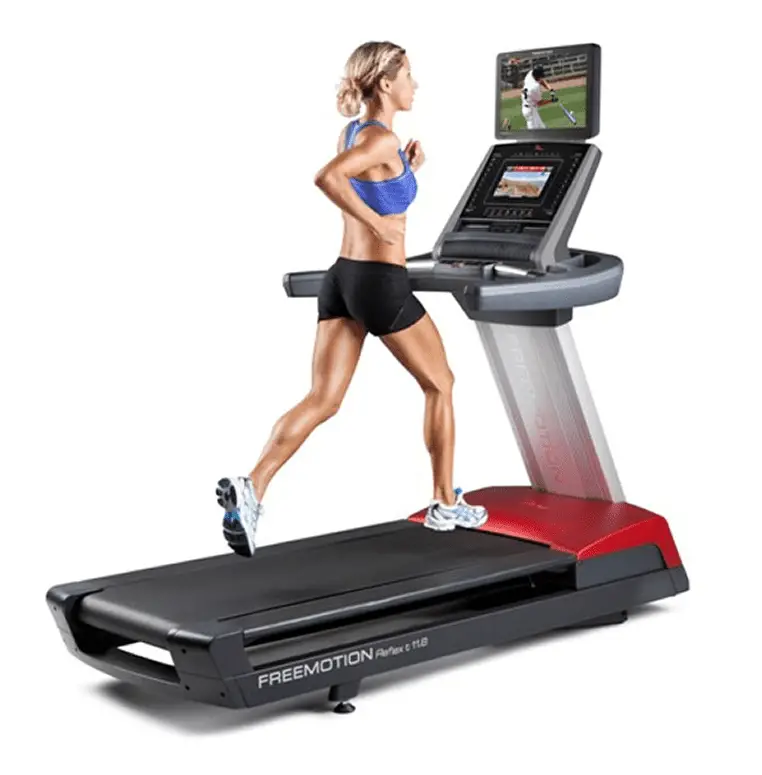 The Freemotion 850 packs an incredible number of features into one treadmill at a low price. The 32 pre-programmed workouts are a tremendous help to those who want to improve their fitness. Even more variety can be obtained through the iFit compatibility feature.Runners love the versatility of the incline and decline options on this treadmill, and the company backs it with a great warranty. Reviewers offer few complaints except for an occasional squeak which can be fixed by placing a mat underneath. This FreeMotion treadmill is a steal. FreeMotion 850 owners gain all the features they could need in a treadmill for a cost far below similar models.