*This post may contain affiliate links. As an Amazon Associate we earn from qualifying purchases.
image source: Amazon
If you love running, but hate the toll the pavement takes on your knees, a treadmill is a great option. Runners looking for a mid-level treadmill at a reasonable price will find the NordicTrack T 6.5 S Treadmill a viable option.
You want to get in shape and improve your running form while avoiding the substantial impact on your knees. Any runner who's suffered from an injury or taken time off because of one knows the benefit of running on a treadmill. If you're ready to invest in new fitness equipment for your at-home gym, a new treadmill is a great foundational piece to consider.
About NordicTrack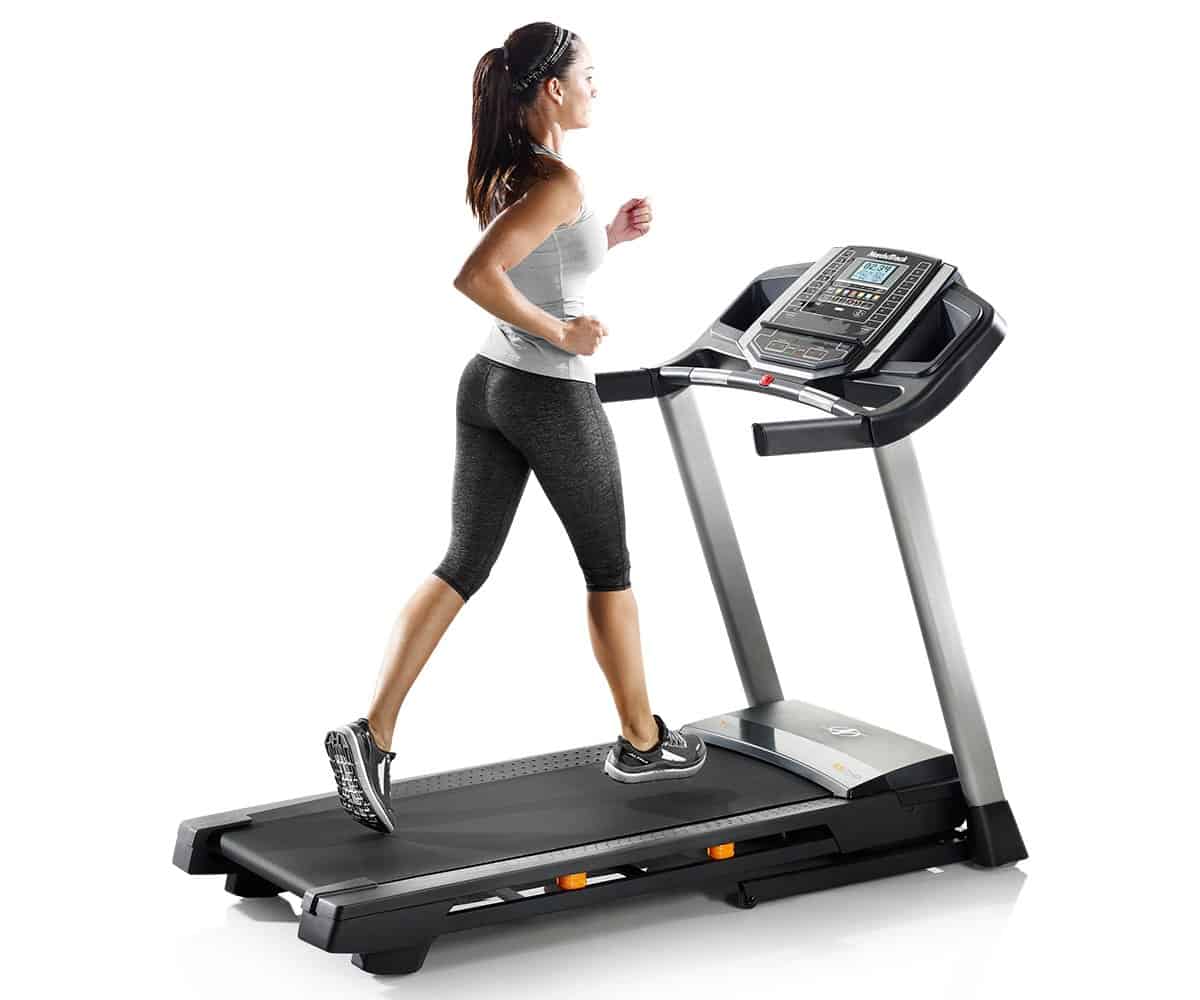 Image from Am​​azon
NordicTrack is a fitness equipment manufacturer. The company is well-known for ski trainers, elliptical machines, treadmills, and low-impact exercise equipment. They also manufacture whole-body home workout gyms. The company was founded in 1975 by Paul Edwards. Since then, the brand is one of the leading manufacturers and sellers of at-home fitness equipment.
Construction of the NordicTrack T 6.5 S Treadmill
Before investing in a treadmill, exercise enthusiasts should take the time to compare several products to find the best build. Treadmills should feature a simple user-interface. The equipment should set up quickly, offer a large running base, and sturdy structure. Additional features like a heart rate monitor, LCD panel, and audio, are some other features to consider when comparing treadmills.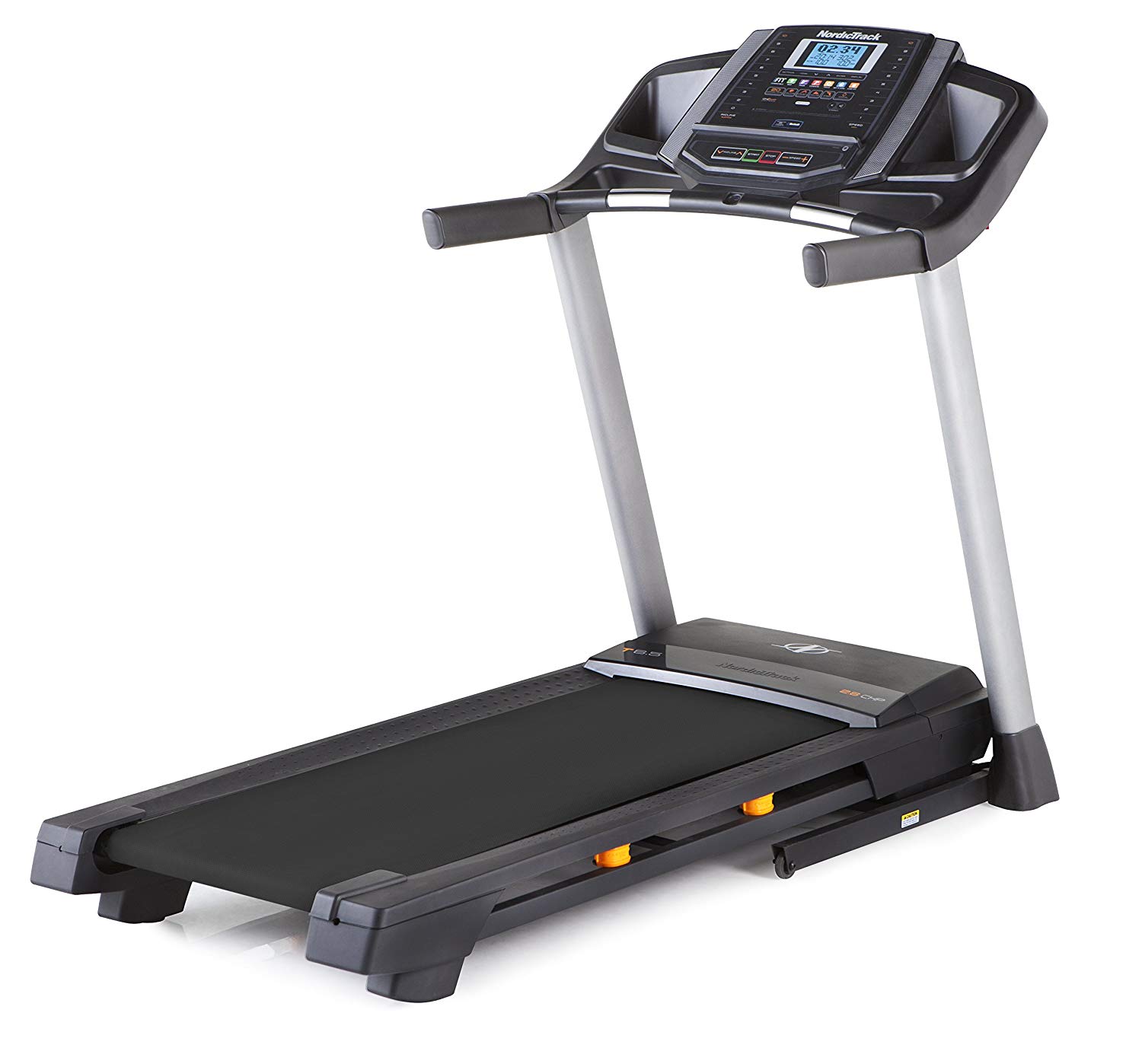 Image from Amazon
Running Surface
The NordicTrack T 6.5 S Treadmill features the FlexSelect Deck. What this feature offers is a soft and cushioned running frame. It also has a feature allowing runners to change the deck to a more solid surface if they prefer. The option is a nice feature which is prominently available on their higher-end treadmills. However, consumers who choose this model will receive quality structure at the mid-price point when investing in this treadmill.
With this treadmill runners have the option to run on a harder surface, mimicking outdoor pavement. The large 20-inch X 55-inch running surface is similar to the running deck of many competing treadmills. It also allows runners to adjust speeds up to 10 MPH and incline up to 10 percent.
Console
Another nice feature on the NordicTrack T 6.5 S Treadmill is the console. Twenty preprogrammed exercises are built-in, which is much more than other treadmills in this price range. Programs include fat burning, muscle building, and cardiovascular improvement, among others.
Runners also have access to iFit with this treadmill, which is NordicTrack's proprietary training system. It allows users to compete with friends, record their times, and improve their records. It also allows users to train with top NordicTrack coaches included with the subscription fee.
Heart Rate Monitor
A nice bonus the NordicTrack T 6.5 S Treadmill offers is heart rate monitoring. Treadmills at this price point typically don't include a built-in monitor. Users can utilize the grips on the treadmill to track their heart rate while running or walking.
Ease of Setup
Although it isn't difficult for most, setting up the NordicTrack T 6.5 S Treadmill is a tedious process. Owners must follow a 17-step process to set up their new treadmill before use. Text and picture instructions come with the manual. A Philips screwdriver is also required, which doesn't come with the treadmill.
NordicTrack T 6.5 S Treadmill Specifications and Features
[amazon box="B0193V3DJ6″]
Of course, before choosing a treadmill, customers must compare specs. Some of the basics about the NordicTrack T 6.5 S Treadmill include:
It is 73-inches in length, 36.75-inches in width, and 67.5-inches high

The treadmill weighs 203 pounds, and user capacity is 300 pounds

It operates on a 2.6 horsepower continuous, heavy-duty drive motor

Owners can walk, jog, and run on the treadmill, up to speeds of 10 MPH and incline of 10 percent

One-touch controls make it easy to adjust speed and incline
Some of the extra cool features of the NordicTrack T 6.5 S Treadmill include:
The FlexSelect Cushioning System to help reduce the impact on the knees and joints

The CardioGripTM heart rate monitors

iPod compatible system and two-inch audio speakers

A five-inch backlit LCD

It monitors a user's heart rate, calories burned, distance, elapsed/remaining time, speed, and pace
The treadmill also includes a lifetime warranty on the frame and 25-year warranty on the motor. One-year parts and labor warranties also come with the purchase of the NordicTrack T 6.5 S Treadmill.here…
Where to Buy the Treadmill and Average Price
The NordicTrack T 6.5 S Treadmill is available throughNordicTrack's website. It is also available from retailers like Amazon, Sears, and the Home Depot.
Competitor's Treadmills 
For those who are considering the NordicTrack T 6.5 S Treadmill, it is best to compare it with several other treadmills before purchase. Here is how a few of the competitors in the mid-level treadmill market stack up.
[amazon box="B072R2T7K5″]
This treadmill features a maximum 2.25 horsepower motor, with quiet impulse drive feature. The impulse drive helps minimize motor noise when running or jogging on the frame. The treadmill has a user-weight capacity of 220 pounds.A nice feature of this treadmill is the simple folding mechanism. With the touch of a lever, users can fold it and store it below a bed or in a closet when not in use.
The treadmill can attain speeds up to 7.5 MPH and is adjustable in .5 MPH increments. It has 12-preset exercise programs to choose from as well.
One major complaint with this treadmill is the limited incline settings. There are only three adjustment levels (low, medium, high). The rubber tread belt creates more impact on the knees, in comparison to the Flex-system on the NordicTrack treadmill. Many purchasers also complain the assembly takes plenty of time, and instructions are hard to follow.
[amazon box="B003X5J1S6″]
This treadmill is marketed as an ultra-high capacity walking/jogging treadmill. The high user capacity of 400 pounds, makes it an excellent choice for those who are trying to get into shape. The electric treadmill features a 1.5 horsepower motor with quiet operation.
The speeds are adjustable at .1 MPH, and speeds up to four miles per hour are built-in for users to select. Those who are new to fitness or looking for lower-impact workouts will love this feature. The treadmill belt is 20 inches wide, and it features 18-inch safety handles. It also comes with a five-year warranty on the motor and one-year on the frame.
There are some cons purchasers complain of. The limited speed settings for the higher price is one of them. Many also complain that the LCD monitor is tiny and hard to read. Others complain that the small motor capacity leads to eventual burnout of this treadmill.
[amazon box="B07DZJGWN7″]
This treadmill has 12 preset workout programs and 12 running programs to select. A heart rate sensor also helps individuals achieve their goals based on the workouts chosen when using the treadmill. The unit features a soft-drop technology. The technology makes folding the treadmill for storage a breeze. It also eliminates the possibility of damaging the home's floors when opening it for use.
Owners like that this treadmill has a quiet drive motor. The emergency strap is another excellent safety feature, allowing users to stop in the event of an emergency. Just pull the red cord, and the treadmill shuts off. A 2.25 horsepower motor is powerful. The treadmill also features a five-inch LCD screen. This displays calories burned, distance, time, and heart rate.
There are some cons worth mentioning as well. The treadmill only features three incline settings (low, medium, and high). The speeds range from 0 MPH to 8.69 MPH, but some owners complain adjusting speeds takes plenty of time. A couple of complaints about time-consuming set up of the treadmill are also made.
[amazon box="B073LW8HK6″]
This multi-function treadmill is suitable for running, jogging, and walking. It features a simple LCD screen which tracks speed, calories, heart rate, and distance. It is light, foldable, and portable. A simple lever-design allows owners to fold the treadmill and store it under the bed when not in use.
One feature owners like is that this model features 12 preset workout programs. It has an anti-slip rubber base, which doesn't cause too much impact on the knees. Owners also appreciate the low noise motor operation and safety emergency stop plug. A heavy-duty stainless steel frame is also well-built, for the low price point.
The treadmill doesn't contain a broad speed range. It is capable of going from 0 to 6.2 MPH. Some also complain the treadmill is too small for running, as it is made for smaller rooms/spaces. The treadmill doesn't feature incline adjustment settings. The inability to adjust incline is a significant drawback for those who want higher calorie burning exercises.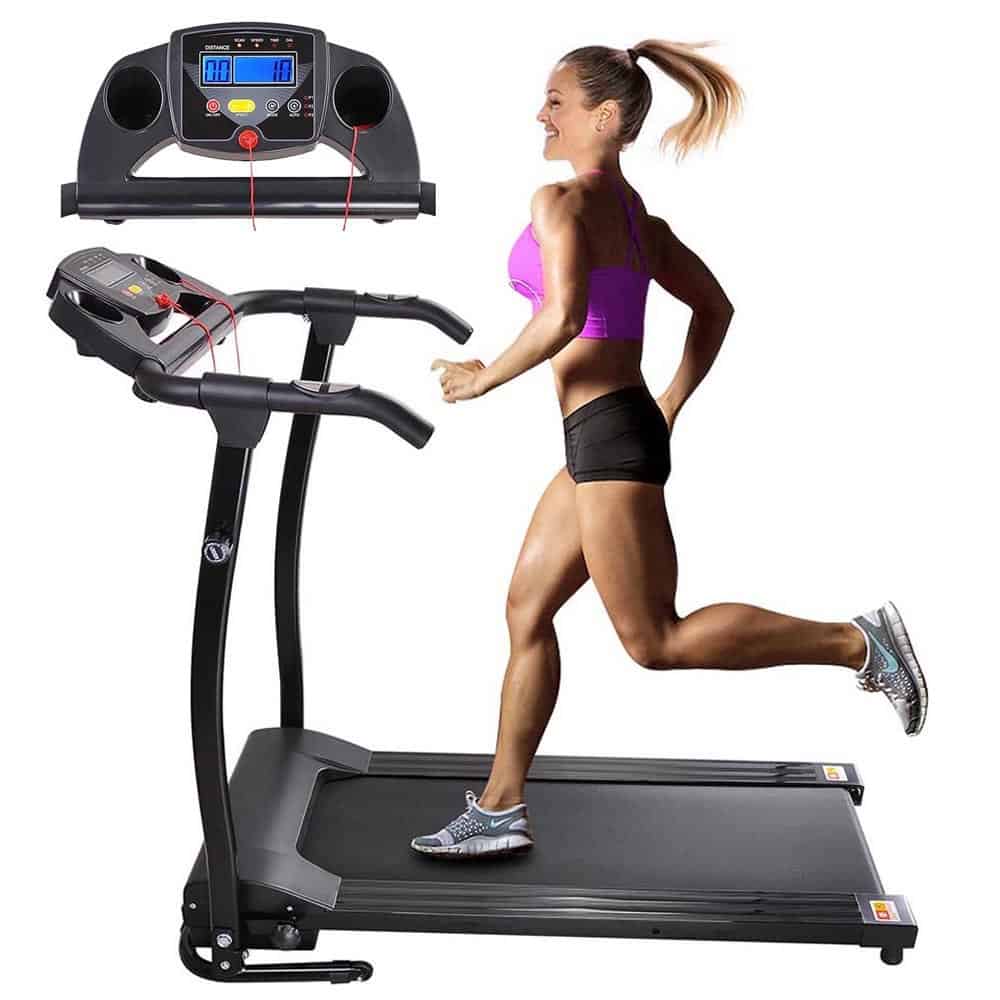 CE and RoHs Certified; Heavy-duty steel construction, 1100W low noise motor
Multi-function LCD display shows scan, distance, time, calories, speed and heart rate; Emergency stop key help you to stop in case that you fall down on the running belt
Foldable design and 2 wheels for easy storing and rolling away; Padded foam handrails are designed for comfort, safety and balance
2 water bottle holders on both side of control panel; Easy to assemble
Portable Treadmill for Small Space; Runway Size: 39.3″L x 12.5″ (100x32cm); Maximum User Weight: 220lbs (100kg); Overall Dimension: 51″L x 22″W x 49.6″H (130x56x126cm)
A final option in the mid-price range is this treadmill by AW. It has a low-noise motor and multi-function LCD. While operating, users can scan calories, distance, speed, time, and heart rate. It also has an emergency stop key to prevent users from falling if they lose balance.
Many people who've bought the treadmill love how portable it is. It folds easily with the lever and rolls on two-wheels for simple storage. It has two water bottle holders and side rails for added support if users need it when exercising. Side up/down arrows on the handlebars allow users to toggle the speed and incline easily as well.
Owners complain about the incline settings. There are only two preset options (high and low). Additionally, speed adjustments go from 0 MPH up to 6.2 MPH on the treadmill. Customers also complain of the poor instructions which are included for assembly, making it difficult to put together. Some also complain of poor quality and design when they received the treadmill after purchase.
Pros and Cons of the NordicTrack T 6.5 S Treadmill
When it comes to fitness equipment, consumers can't go wrong with NordicTrack. Some of the advantages to choosing the NordicTrack T 6.5 S Treadmill include:
The warranties are more extended than all competitor warranties

The ability to bring personal trainers into the home with the iFit subscription

Utilizing Google maps allows runners to mimic outdoor hills, roads, and obstructions, creating a more challenging routine

One-touch controls make it easy to adjust speed and incline

Runners can change the "road-impact" via Flex-cushioning.
There are some cons which purchasers must consider and these include:
The price is a bit higher than most of the competitor models on the list

This product is a mid-level treadmill, so construction isn't as sturdy as one in the NordicTrack family at the higher price points

The track squeaks a bit when running at faster speeds

Setting it up isn't difficult, but is time-consuming, and requires two people for proper setup.
Should You Invest in the NordicTrack T 6.5 S Treadmill?
Ultimately, consumers want to buy the best treadmill for the price. There are several reasons to invest in the NordicTrack T 6.5 S treadmill. The warranty alone is superior to all other treadmills we compared. Customers receive a lifetime warranty on the frame and motor. If anything goes wrong, they're repaired or replaced at no charge to the owner.
Regarding the performance, the NordicTrack treadmill is subpar to the other products. It achieves speeds up to 10 MPH and inclines up to 10 percent, both of which are higher than the other treadmills. With 20 preset programs, owners can also choose various workout programs, based on their fitness goals.
True enjoyment comes from activity of the mind and exercise of the body; the two are ever united. – Wilhelm Von Humboldt
This treadmill is not a high-end NordicTrack product. Considering this, owners shouldn't expect the smoothest transitions when running, or extremely low noise when operating at fast speeds. The treadmill has its flaws, including the time it takes to set up in the home. Additionally, it features the iFit program, but an additional monthly or annual fee is linked to this option. Some people also complained that when often used for running, the screen disconnects/flickers at times.
For those who are looking for a mid-level treadmill, backed by a reputable manufacturer, the NordicTrack T 6.5 S tr​​eadmill is a great option. As long as you go into the purchase with the right expectations, you should be happy. Those who are expecting professional-grade equipment or gym-quality treadmills won't get it with this product. But if you are an avid runner looking for something that you can use daily in the home, this is a good option.