*This post may contain affiliate links. As an Amazon Associate we earn from qualifying purchases.
The human body needs to move. A walking treadmill like the Weslo Crosswalk 5.2t treadmill can help. Why not just walk outside? Well, for one thing, the weather doesn't always cooperate. And not all neighborhoods are walkable. Also, a lot of people prefer to exercise in private. A walking treadmill can overcome these obstacles and more.
Whether your goal is shedding a few pounds, getting back into shape, or recovering from an injury, a walking treadmill can get you moving again. With so many treadmills to choose from, though, it's important to consider your purchase carefully. The Weslo Crosswalk 5.2t treadmill is a hot model right now. It's light, compact, and easy to set up anywhere. But does it live up to the hype?
About Weslo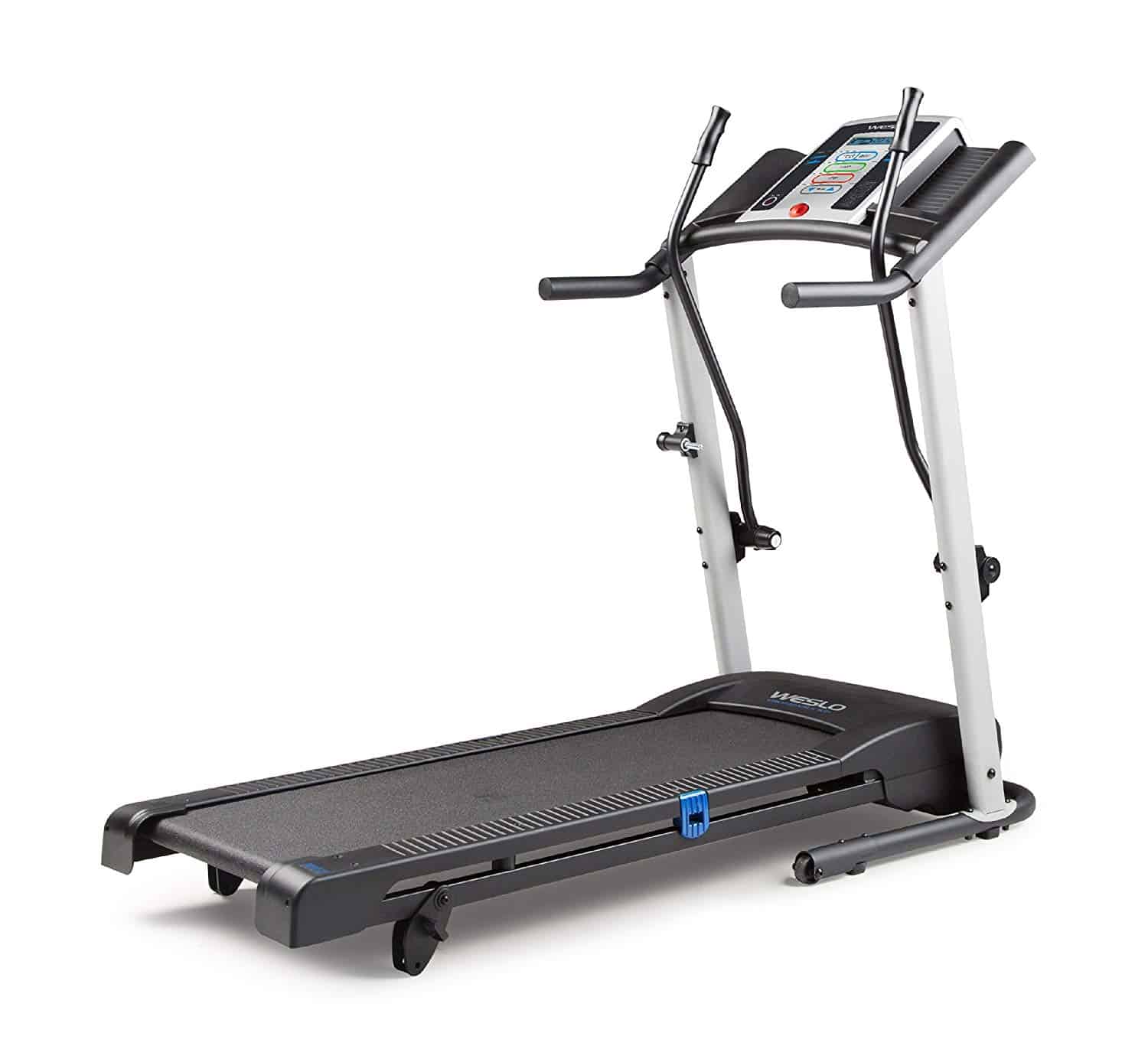 Icon Fitness owns the Weslo Product line. The company sells a wide range of fitness products for athletes of all fitness levels, including treadmills, incline trainers, ellipticals, and exercise bikes.
Weslo Crosswalk 5.2t Treadmill Features
The Weslo Crosswalk 5.2t treadmill has many great features which makes it perfect for home fitness.
Screen and console
A treadmill screen is fundamental. The Weslo Crosswalk 5.2t treadmill console features one-touch button controls and a heart rate sensor. The display screen is a basic black and white LCD monitor. It has a start and a stop button, an up/down button to control speed, priority display, and a workout selection button. It also has an Easy Pulse heart thumb-pulse system, which allows users to track their heart rate directly from the side handlebars. Finally, it has two water bottle holders.
Speed, incline, and program settings
The Weslo Crosswalk 5.2t treadmill can achieve speeds of up to 10 miles per hour. It comes with four preset workouts. The maximum incline is 8 percent.
​User weight capacity and treadmill belt
The Weslo Crosswalk 5.2t treadmill features a 2.5 HP motor. The maximum user weight capacity is 250 pounds. The unit itself weighs 168 pounds. The Comfort Cell (CM) Cushion on the belt helps minimize the impact on the joints. The belt is 16 inches wide and 47 inches in length. This base provides a relatively long walking and running deck for users to mobilize efficiently.
Pros and Cons of the Weslo Crosswalk 5.2t Treadmill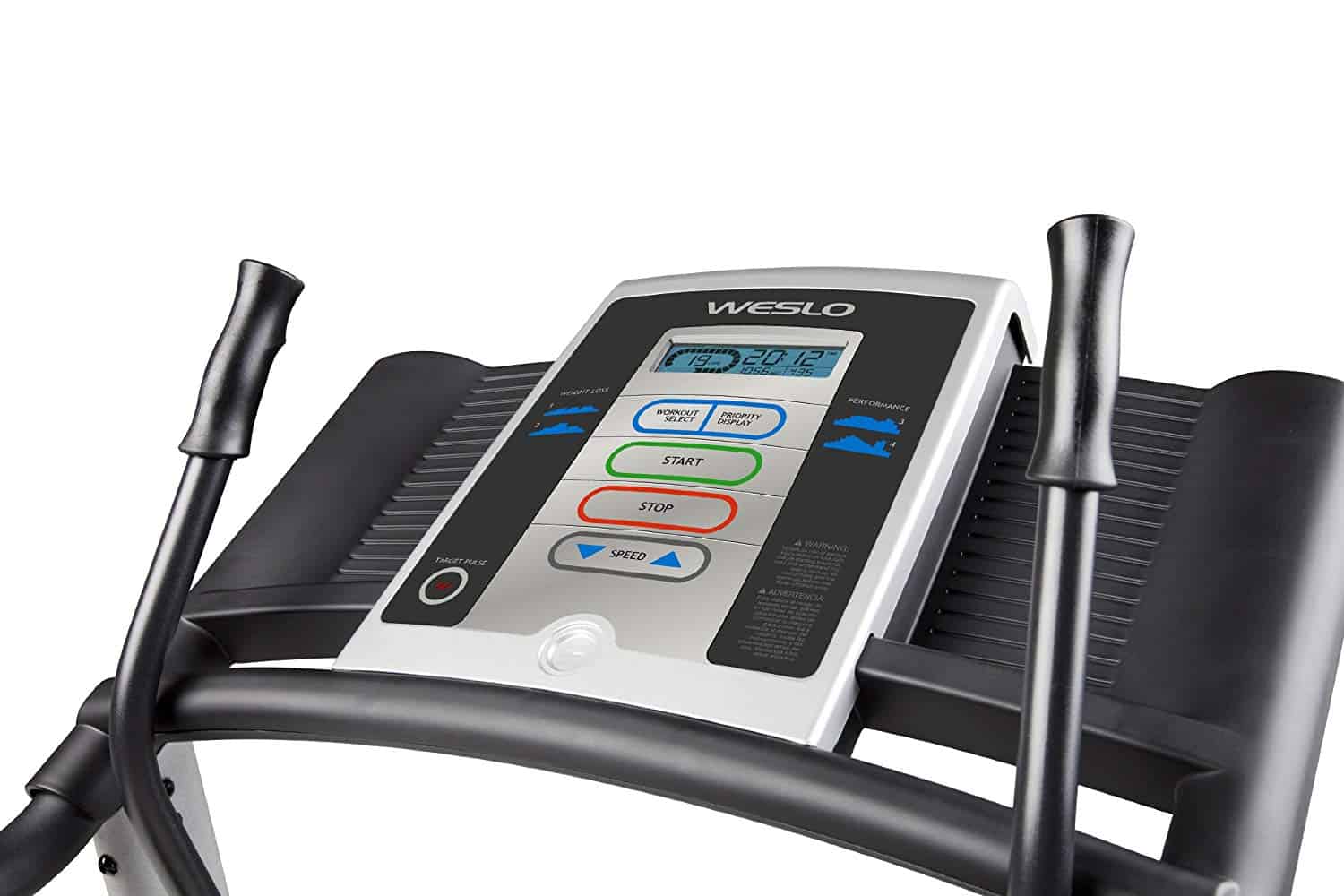 The Weslo Crosswalk 5.2t treadmill is a basic walking treadmill. Before purchasing, consumers should weigh the pros and cons carefully.
Pros
Simple design for beginners or those who merely want a treadmill for walking

Folding design allows owners to store it below the bed when not in use

The upper bar resistance arms mimic elliptical trainers, enhancing upper body work

Comfortable heart rate monitor sensor grips

Reasonably priced
Cons
The quality is sub-par, particularly the plastic finish

The treadmill is loud in operation

The console area is simple in design, and the screen is black and white

The warranty on parts and labor is only 90 days

The running area is small
But no product is perfect, and the Weslo Crosswalk 5.2t treadmill does have a few drawbacks.
Our Review Process
We compared the Weslo Crosswalk 5.2t treadmill with some other popular models on the market. We considered several variables. The construction, materials, and finish were priorities in our review. We also discussed the features and uses of the treadmills we compared. Additionally, we compared overall construction, noise levels, settings, and prices. The brand-name of the best machines is also a factor in our review process.
Price Range and Where to Buy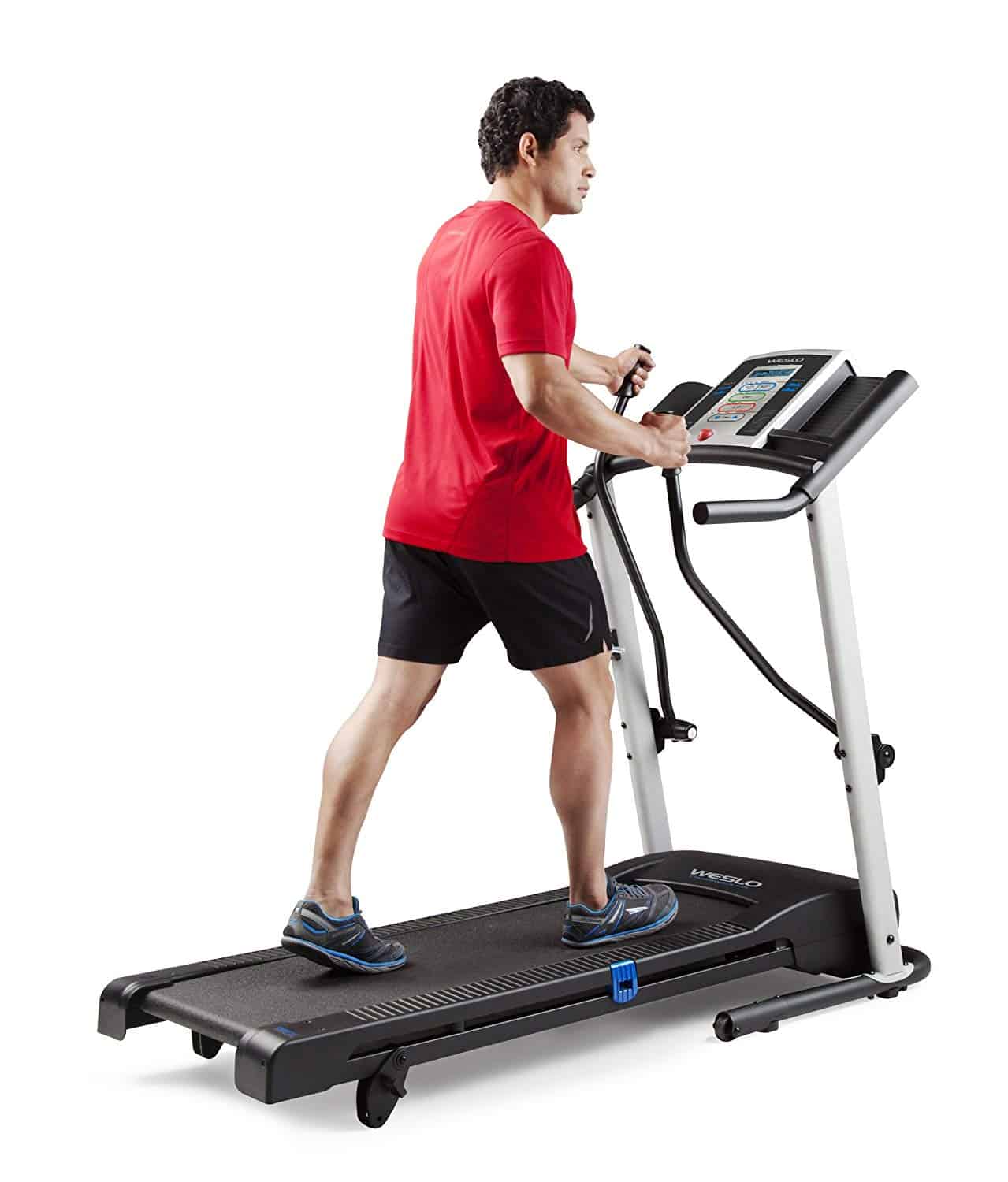 The Weslo Crosswalk 5.2t treadmill is available through Weslo and a few other websites. Sites like Walmart and Amazon also carry it. The price varies for the treadmill depends on the consumer's choice when buying the treadmill on different websites.
​The Best Walking Treadmills Available
Although Weslo carries excellent treadmills for walking and running, there are several great options available from other manufacturers. How does the Crosswalk 5.2t stack up?
Weslo Cadence G 5.9
[amazon box="B007O5B0LC"]
This treadmill features a space-saving design allowing owners to fold it for storage when not in use. It has six personal trainer workout settings and two distinct incline settings. The treadmill also has a comfortable cushion on the floor/track, to minimize the impact on the joints.
A blue-tint LCD screen makes it easy to see display settings in darker conditions. The easy pulse heart rate monitor also allows users to track the heart rate on the side handlebars. It can withstand user weight capacity of close to 300 pounds.
The treadmill requires set upon arrival. Consumers can pay for full assembly. However, this comes at a premium rate. Although setting it up isn't difficult, it will require the use of special tools. It can also take between 20 to 30 minutes to complete.
​ExperPeutic TX1000
[amazon box="B003X5J1S6″]
This treadmill is great for recovery and therapies. It has a user weight capacity of 400 pounds. Therefore, even the heaviest users who are trying to lose weight can safely use the treadmill.
It features a 1.5 HP high torque motor, and speed setting up to four MPH. Users can adjust speed increments in 0.1 MPH. It features a wide 20-inch walk belt and 18-inch extended handrails. This design feature helps with stability and safety if users get out of control.
The motor isn't robust. The treadmill is for users who want to lose weight or those doing recovery/therapy. It might limit the target consumer audience in this way.
​Merax JK1603 Folding Treadmill
[amazon box="B01B76QKC2″]
This treadmill's powerful motor is adjustable and great for users who plan on walking or running on the treadmill. It is foldable, making it easy to store when not in use. It tracks speed, distance, heart rate, and monitors calorie count during workouts.
This treadmill operates at low noise settings. It also has an emergency key stop pull. In the event users feel unsafe, they can stop the treadmill by pulling this key. The deck cushioning minimizes the impact on knees and joints.
The treadmill only adjusts up to 6.2 MPH. It also has a lighter user capacity weight than competitor models, with a max weight of 220 pounds. It doesn't offer many program settings to select for its owners.
​NordicTrack T 6.5 S
[amazon box="B003X5J1S6″]
For those who can spend a little more, the quality is well worth the cost with this treadmill. A reputable brand-name is just the beginning. The treadmill inclines up to 10 percent and has 20 built-in programs to pick. It features a full 20-inch deck as well, great for running or walking.
It has fantastic audio controls allowing owners to connect MP3 players to the treadmill. The treadmill has a cardio grip heart rate sensor and speed adjustments from 0 to 12 MPH.
The price of the model is well above those competitor treadmills on this list. Some reviewers also indicate that the belt/deck isn't as soft to land as other walking treadmills. This cushion system impacts the joints a little more roughly than competitor products.
​Titan Under Desk Treadmill
[amazon box="B01MU7TG6E"]
For those who have minimal amounts of space to work with, this Titan walking treadmill is a great option. It only has the walking deck. This design style means it eliminates the bulk of the console and upper portion of the treadmill. The treadmill is excellent for tight offices or a small, compact room in a home.
It has a max user weight of 250 pounds and speed adjustments up to four MPH. The model also features a broader deck of 25-inches and a 65-inch length. It fits compactly below a bed or desk for storage as well, when not in use.
The treadmill doesn't have the user settings and features most treadmills feature. It is just the running deck, so there are no handrails or side barriers for additional stability.
​SereneLife Smart Digital Treadmill
[amazon box="B07B6H7XBN"]
The electric-motor treadmill has downloadable sports apps for walkers and runners. This feature allows users to expand their workout library. The treadmill features a workout for everyone. No matter what their fitness level, there are several programs to select. This factor ensures everyone can utilize this treadmill in a manner they can control and get a great workout.
It syncs up with phones, tablets, and MP3 players. The folding style makes it easy to store when not in use. The treadmill adjusts up to six MPH; it also has an emergency shut-off key. The treadmill has many training modes to help new users build up their strength and confidence.
The LCD screen is simple and only has a few adjustment settings. There aren't many workouts to select. The max user capacity is about 265 pounds, which is less than other models on this list.
​Xterra TR150 Folding Treadmill
[amazon box="B01M0L0D90″]
The treadmill has a long walking base of 50 inches. The width of the deck is about 16 inches. This width is excellent for those who want to use the treadmill for walking. It has a bright, 5-inch LCD which is easy to read. The monitor features a blue, backlit display, so it is easy to see in dark conditions.
The speed ranges from 0 to 10 MPH, and users can change settings on 0.5 MPH at a time. There are 12 workout settings to choose from, for beginners and more advanced athletes.
The running and walking deck is very narrow. It is nearly half the size of other treadmill decks, which are at least 20 to 22-inches in width. The floor doesn't feature any shock absorption or impact minimization either. 
​Sunny Health Treadmill
[amazon box="B00OS9R9VW"]
The Sunny Treadmill is available in black and pink finishes. For those who want a custom design, and features, this treadmill offers just that. It has a 2.2 HP max output. The treadmill features a max incline rating of 5 percent, and speeds ranging from 0 to 10 MPH.
Users can choose from three incline settings on their workout. The LCD screen has a blue backlit feature, so it is visible even in darker rooms and conditions. There are nine workout settings to select. The treadmill has roller wheels for easy transport. It also folds away for storage when not in use.
The treadmill deck is exceptionally narrow at under 16 inches in width. The frame can only withstand a max user weight of 220 pounds. This is much less than most of the treadmills on the list. This user capacity max limits the consumer who can use this machine at home.
​Our Verdict: Is Weslo the Best Option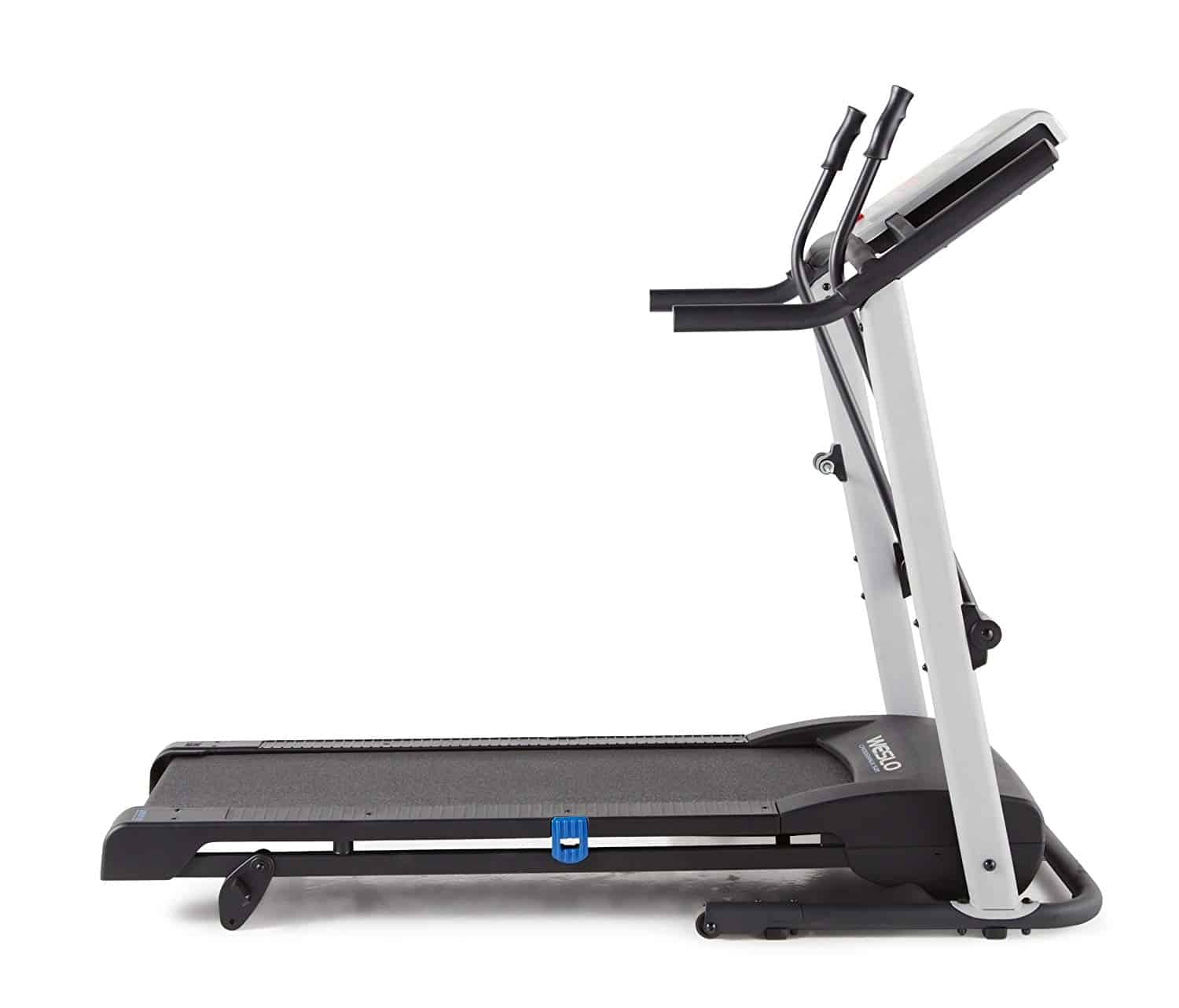 When comparing the Weslo Crosswalk 5.2t treadmill with its competitors, there are many great models. If you're on a budget, the Weslo is a great machine to consider. The inclusion of the elliptical-style handlebars is also a great feature. This feature also allows users to maximize calorie burn and get an upper body workout in as well. They can mobilize arms and legs for a full body workout on the treadmill. The max user weight is also higher than competitor treadmills in the field. The treadmill also adjusts easily and features various incline settings. Although it doesn't have the sturdiest frame, it is a good option for a walking treadmill. Especially given the affordable price of the model.
For those who can spring for a higher price-tag, the NordicTrack treadmill is a great option to consider as well. With 20 preset workouts to choose from, it offers far more variety than any other treadmill in its class. It has incline setting adjustments at .5 MPH and speeds up to 12 MPH. This speed is higher than the next best treadmill which goes up to 10 MPH max. The NordicTrack treadmill also features a 20-inch wide deck. This width is perfect for both runners and walkers. It is more extensive than all other models on the list.
When selecting a new walking treadmill, there are several great models and brands to select. Depending on your budget, the features you desire, and overall quality you seek, consumers have several great products to select. These are a few of the best models to consider when narrowing down your list of walking treadmills available.