*This post may contain affiliate links. As an Amazon Associate we earn from qualifying purchases.
There are several great treadmills people can use to get in shape. Many people make excuses to avoid going to the gym. The Horizon T101 Treadmill from the Horizon Fitness line is a solution for those who keep making those excuses. If you want to get in shape, but don't have time to go to the gym, here's the solution.
After work, the last thing you want to do is going to the gym. That's especially true if you're uncomfortable with your fitness levels, or lack thereof. You've probably made every excuse, and you're not alone. A treadmill is an excellent way for you to start your journey to a healthier, more active lifestyle. Entry-level treadmills won't put too much pressure on the joints if you're heavy and need to start slowly. With several workout programs, you choose the intensity, time, and difficulty of each workout. No matter where you're at physically, you can begin a workout regimen and get in shape. So, forget the pricey gym membership and consider starting your fitness plan from the comfort of your home.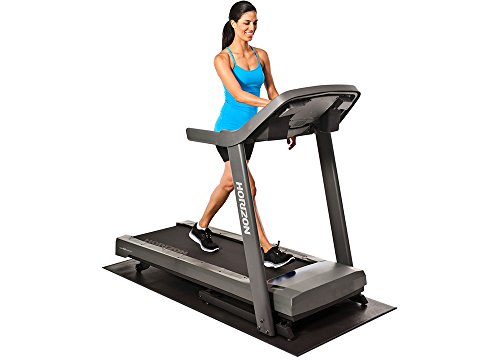 About the Horizon Fitness T101 Treadmill
When choosing a new treadmill, consumers should consider several factors. The Horizon T101 treadmill offers several great features for owners. Multiple workout programs, a sturdy base and frame, smooth running track, and simple program settings, are some of these features. These are some features of the Horizon T101 treadmill that make it great for at-home workouts.
Specs
The treadmill features a 2.5 horsepower (HP) motor and a large 20 by 55-inch running base. The weight capacity is 300 pounds, and it is foldable, so owners can store it when not in use. It also features a user-friendly console, with LED backlight allowing owners to workout in the dark. The treadmill also features a dual-grip heart rate monitor and a built-in Bluetooth audio system. The Horizon T101 treadmill also includes a two-year warranty on parts and lifetime warranty on the frame.
Treadmill and computer features
There are several great features the Horizon T101 treadmill and computer offers its owners also. The treadmill features a light folding system and variable response cushioning. The three zones cushion provides optimal levels of support while minimizing the impact on the knees. There are a power-assisted automatic incline adjustment and a 2.25 continuous HP motor. There are MP3 compatible ports, a reading rack, cooling fan, and water bottle holder.
The computer features a 4.5-inch LED monitor. There are manual settings, and it shows calories, running distance, and time during each session. There are interval settings, as well as a quick-start feature the owner can set.
Programs, settings, speeds, and incline settings
The Horizon T101 treadmill features a total of 30 workout options to select. Manual, interval, peak, heart rate training, calorie goals, and more. Owners of all fitness levels can set programs to help them achieve their personal goals. With so many workouts, owners will remain motivated, and will consistently find new targets to tackle.
The treadmill also has speed settings up to 10 MPH. Owners can adjust speeds using quick select, or up/down arrow keys (by 0.1 MPH at a time). The incline setting also goes up to 10 percent. This incline setting is adjustable by 0.5 using an up/down arrow to adjust settings.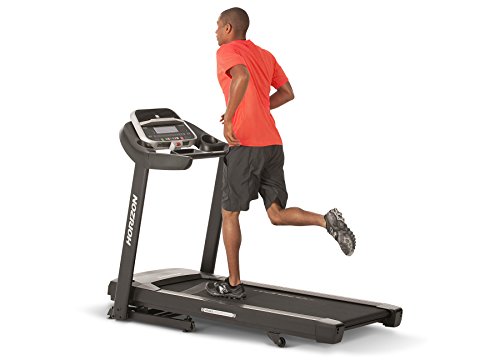 Pros and Cons of the Horizon T101 Treadmill
There are several benefits and drawbacks to owning the Horizon T101 treadmill. These are a few of the main pros and cons of owning this treadmill.
Pros
The lightweight track is easy to fold for storage

A cooling fan keeps owners comfortable while working out

The high, 300-pound weight capacity is great for heavier users trying to get in shape

30 program settings, and adjustable incline and speed variables

There's a pulse grip, heart rate monitor

The patent three-cushion deck minimizes the impact on the knees and joints
Cons
Some owners complain of noise issues with this model

Missing or broken parts upon receipt

The treadmill is an entry-level model, so might not suffice for marathon runners

The running track isn't as long as other treadmills

The LED monitor isn't as impressive as newer model treadmills today
How We Reviewed the Horizon T101 Treadmill
In our review, we compared the Horizon T101 treadmill against other top brands. We discuss features, settings, programs, and the treadmill's frame/durability. We also compared it to models in varying price ranges to give consumers a wide range of purchase options. Additionally, we included consumer ratings/reviews, written by actual owners of the treadmills.
Average Price of the Horizon T101 Treadmill
Where consumers purchase it, and whether they buy it new or used, are variables affecting the price.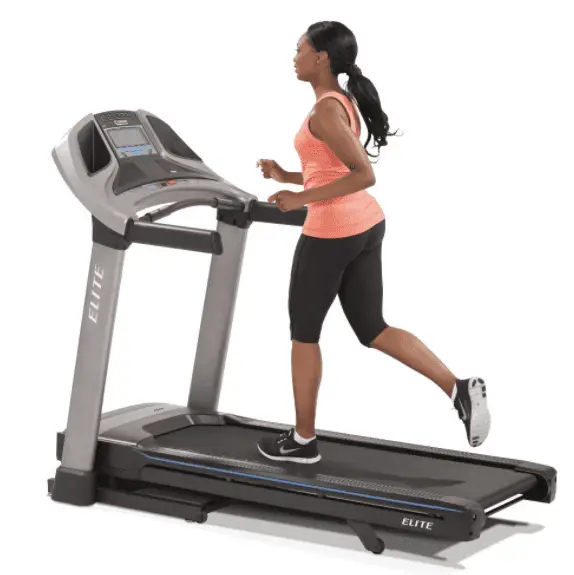 The Best Comparable Entry-Level Treadmills Available
Before deciding on the Horizon T101 treadmill or competitor product, it's essential to compare the best products available. These are some of the top entry-level treadmills, at a comparable price to the Horizon treadmill.
Proform PFTL59515 Performance 400i Treadmill
[amazon fields="B00YG0JVOG" value="thumb" image_size="large"]
Proform PFTL59515 Performance 400i Treadmill
This treadmill features a 2.5 continuous horsepower motor and 20 by 55-inch tread belt. The proshox cushion design helps minimize the rough impact on the knees when jogging and running. It features a space saver design and folds away for storage when not in use. Owners can select one of 18 preset workouts on this treadmill. The grip-pulse EKG heart rate monitor is another nice feature. The treadmill's weight capacity is 255 pounds.
The treadmill features ports for iPods and other MP3 players, so owners can listen to music while working out. It also includes a lifetime warranty on the frame and a 25-year warranty on the motor. Owners also get a one-year on parts and labor. Speeds and incline both adjust from zero to 10 percent (and MPH for speed).
One major drawback is that users have to pay monthly subscriptions for most services. If owners want to use advanced functions, and workout programs, they'll spend each month to do so.
NordicTrack C700 Treadmill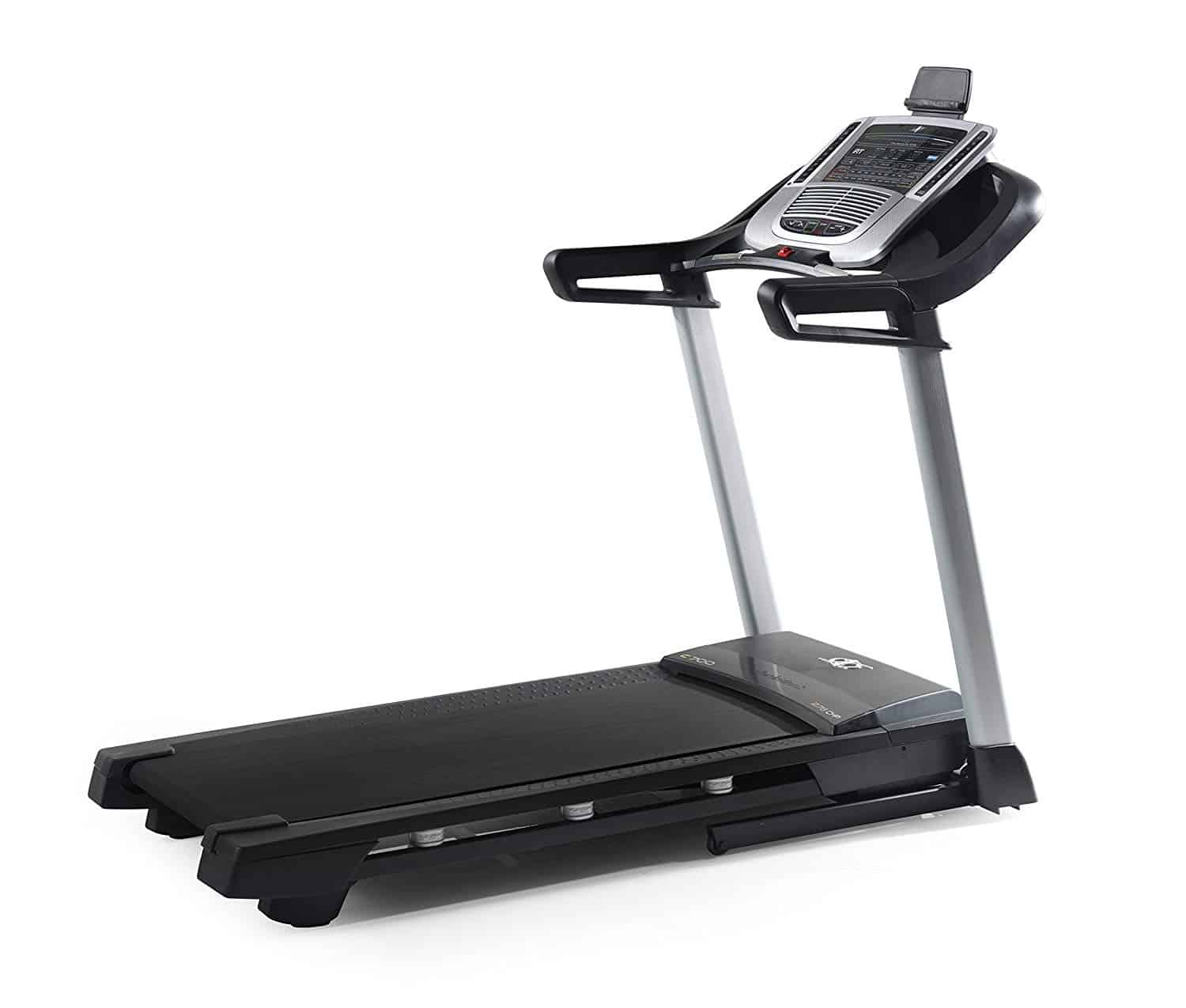 NordicTrack C700 Treadmill
The NordicTrack treadmill features a 2.75 continuous horsepower motor. It can hold users up to 300 pounds, and it's speed and incline settings adjust to 10 percent/MPH. There are 20 workouts apps to choose from when working out. Owners can also subscribe to iFit coach. This program is excellent to help individuals reach their fitness goals, and try challenging workouts off the treadmill too.
The treadmill features a 22 by 55-inch running belt and 1.9-inch roller. It also features a heart rate monitor and Flex-Select cushion to minimize the substantial impact on the joints. The one-touch, space-saving design is another great feature. When not in use, owners can close the treadmill and store it below the bed or in a closet.
Some reviewers complain of poor quality and stability. In one review, the individual notes that after three days the treadmill didn't work. They also indicate that customer service wasn't helpful in resolving the issue or providing solutions for repair.
AFG Sports 5.5AT Electric Folding Treadmill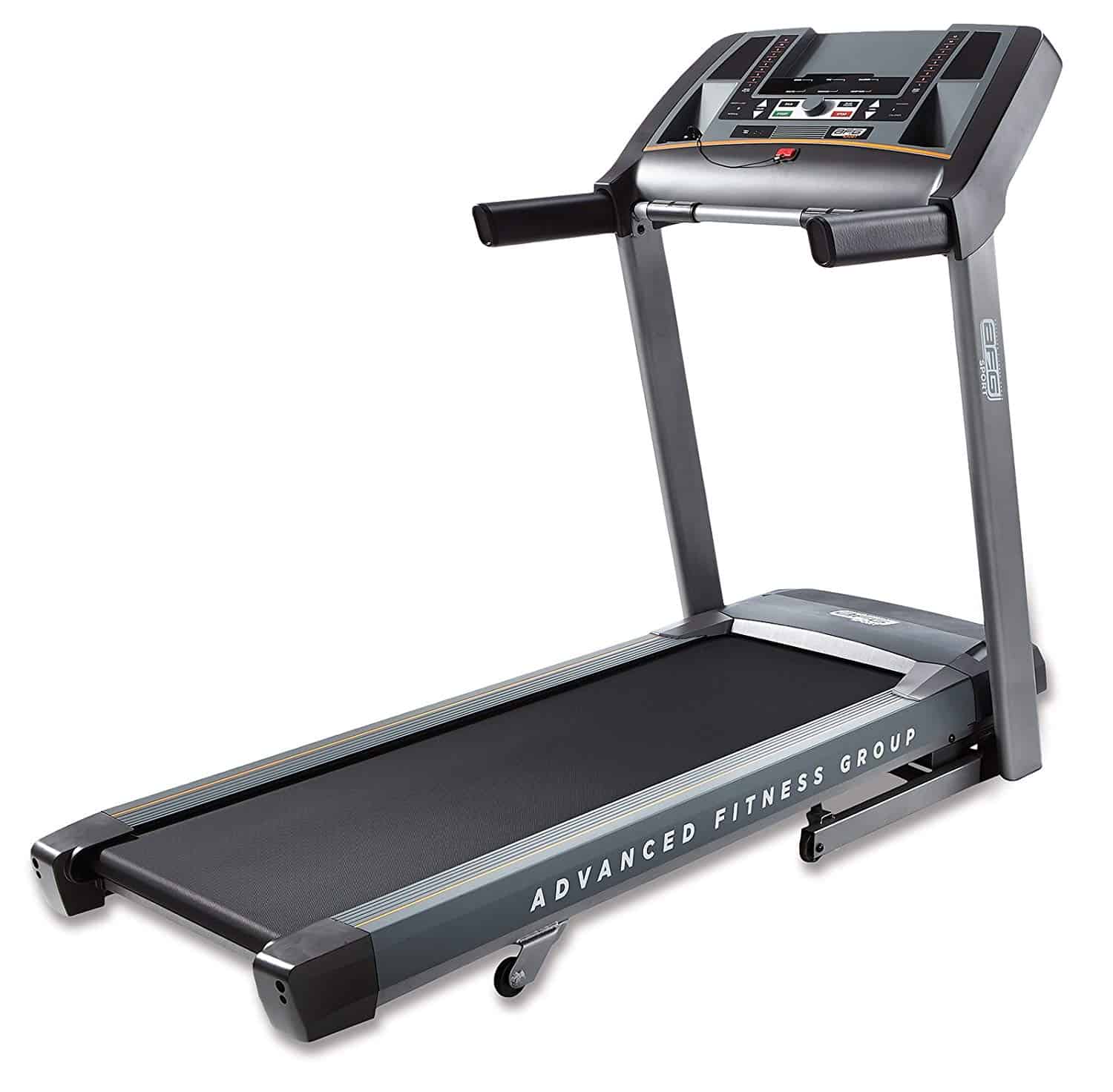 AFG Sports 5.5AT Electric Folding Treadmill
The folding treadmill features a 2.5 continuous horsepower motor. It includes a lifetime warranty, and it doesn't make much noise while operating. The power incline function adjusts from zero to 10 percent with the touch of a button. It is easy to set up and includes expert installation with the purchase. The running belt is 20 by 55 inches, which is similar to other treadmills in this price range.
The running belt features variable response cushioning. This feature automatically adjusts, so it mimics running on outdoor surfaces and roads. It also helps minimize how much impact runners will feel on their knees. There are built-in fans, speakers, and three LED displays. The treadmill features 20 preset workouts owners can choose while working out. The weight capacity for the treadmill is 300 pounds. Owners can also set up multiple user accounts, so more than one person can store their workout metrics.
Reviewers note several concerns and issues with this treadmill. One reviewer indicates the speakers are extremely quiet, so you can't hear anything while working out. They also suggest that the treadmill does not remember user profiles. So, even if you save more than one account, it confuses workout profiles. This flaw limits the usability of the treadmill when multiple users are working out on it.
Reebok Jet 100 Treadmill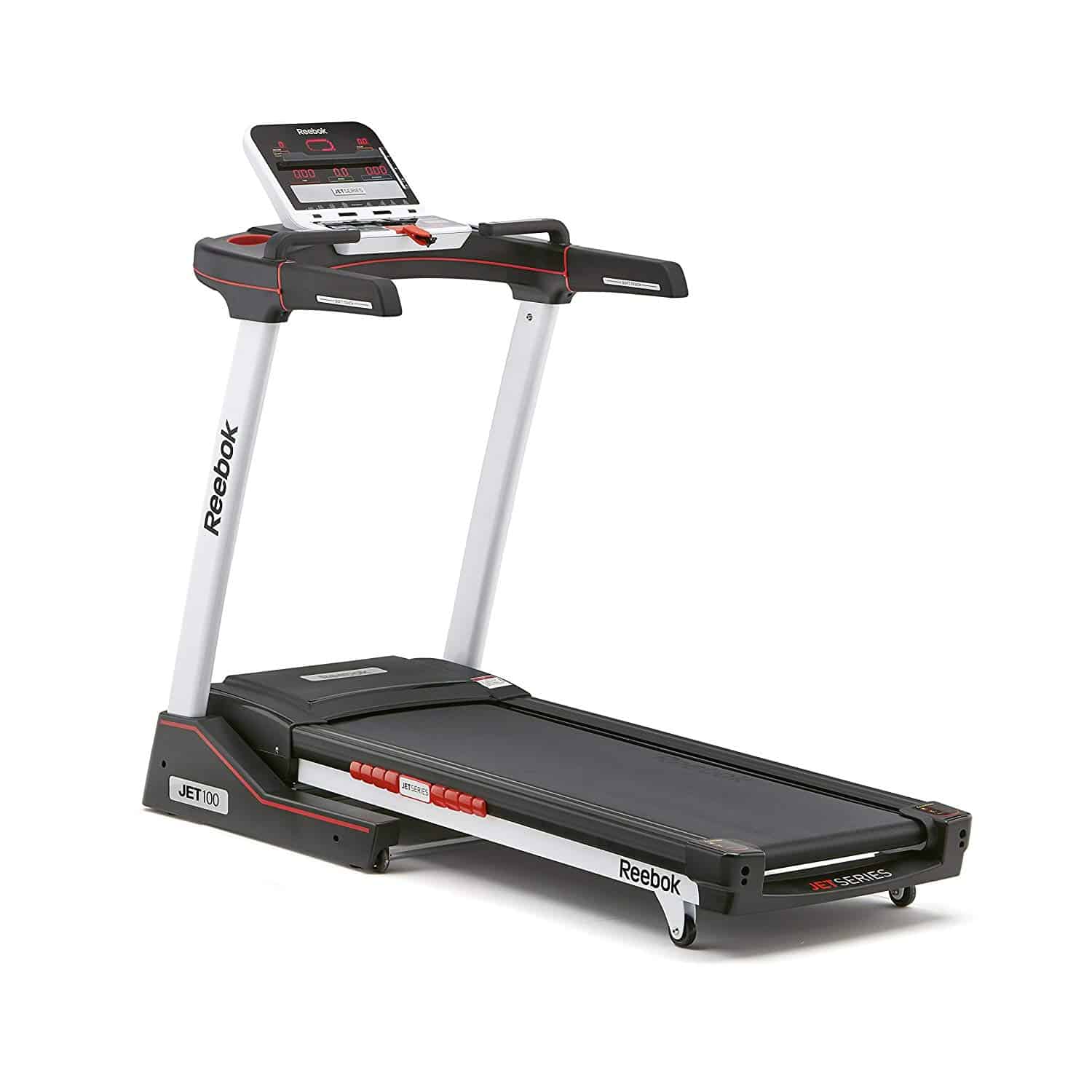 Reebok Jet 100 Treadmill
Reebok is a leader in sports and fitness equipment. So, consumers can rely on the quality of this treadmill. It features an air-motion cushion tech running belt and automatically adjusts to mimic outdoor running surfaces. The deck also helps minimize the impact on joints when running. The max user capacity is 242 pounds, and the treadmill features a 2.0 continuous horsepower motor. The max running speed is 10 MPH, and there are 12 incline adjustment settings. It also features a soft, hydraulic folding mechanism, so owners can store the machine when not in use.
The treadmill also features a body fat analysis monitor. For those trying to lose weight and reduce body fat, this is a great function. It keeps track of progress and helps owners reach their goals faster. There are also a total of 24 programs to choose from on the treadmill. So, whether you are incline training, speed training, or HIIT (high-intensity interval training), there's something for everyone. It is also MP3 compatible. This feature allows owners to connect their iPod or another MP3 player, to listen to music while working out. There's an LED monitor, that's 3.5 inches, allowing owners to adjust settings and workout program options easily.
There are some drawbacks worth noting for those who are considering investing in this treadmill. One reviewer notes that the incline levels do not adjust as high as they want it to reach. And, the treadmill is okay for walking or light jogging. However, once owners set it at faster running speeds, there is plenty of bouncing. This drawback minimizes the usability for those who want to do HIIT workouts, or increase running speeds.
Is Horizon T101 Treadmill the Best Available?
There are several great manufacturers to choose from when buying a new treadmill. Consumers should compare several products, to find the best fit. Depending on fitness levels, workout goals, and budget, consumers will see there are several great treadmills to purchase. Comparing these models allows each to find the best product, for use in their home gym setting.
The Horizon T101 treadmill is an excellent option for most people. If you're looking for an entry-level machine, with great features, it fits the bill. Additionally, the price is affordable in a competitive market. The treadmill offers 30 preset workouts, which is higher than most treadmills on the list. It also features a similarly sized running belt as the competitors. The incline and speed settings are great for beginners and novices looking to improve their fitness levels. It is a little lacking in the technological advancements. But, for working out, it offers everything you'll need to get in shape and reach your fitness goals.
For those who can afford a little more, the NordicTrack C700 is a great option to consider also. One of the leading at-home fitness equipment manufacturers produces it so that you can rely on the quality. It has a giant LED screen and is touch-sensitive, so it's easy to adjust settings. The treadmill is iFit coach compatible. This feature is nice if you want to push yourself and continually tackle new fitness goals. The 2.75 continuous horsepower motor is powerful, and it can hold a max user weight of 300 pounds. The treadmill also includes a lifetime warranty on the frame and 25-year on the motor. It also includes a one-year warranty for parts and labor.