*This post may contain affiliate links. As an Amazon Associate we earn from qualifying purchases.
If you're shopping for a new treadmill, you're in one of two camps. Either you're an avid workout enthusiast, or you're trying to get in shape. Regardless of where you stand, a Reebok treadmill might be the treadmill that's best for your home workout needs. A treadmill has to be sturdy and should feature several workout modes. It should also feature a strong running/jogging track and frame as well.
If you're starting the search or are narrowing down the list, Reebok is a name you can trust. As a worldwide leader in fitness, you can feel confident in knowing their treadmill features solid construction and frame. But just because this is true, it doesn't mean it's the only treadmill you should consider when deciding on fitness equipment. Workout variations, speed and incline settings, and fitness app compatibility are some features to look for in a treadmill. If you're ready to get in shape and increase endurance, a treadmill is a perfect addition to your gym.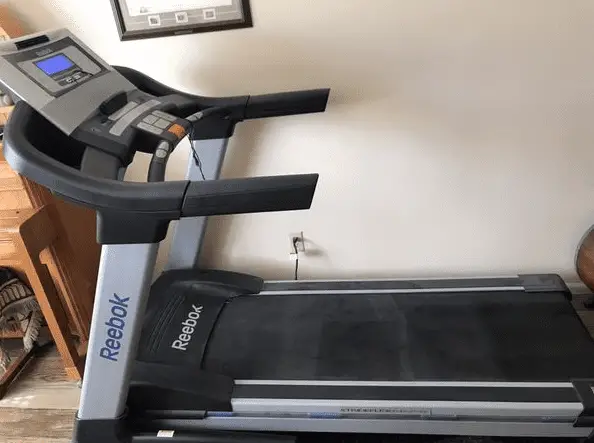 Why Consumers Trust Reebok Treadmills
Consumers trust some manufacturer brands. Reebok is one of those names. Consumers also know that Reebok isn't going anywhere. So, their treadmills and fitness equipment come with great coverage and warranties.
Additionally, consumers like the quality designs and multiple product lines available from the manufacturer. There's a treadmill for anyone, regardless of fitness levels. Reebok treadmills aren't cheap. They do, however, afford owners several great features that set them apart from others.
The Available Product Line of Reebok Treadmills
[amazon box="B0725B6VSY"]
Reebok offers several treadmill models to choose from when buying a treadmill. Consumers can find the Jet series, the iRun series, and Titanium, amongst others. Depending on their budget, and available space in the home, each consumer will choose a different treadmill. There are several standard features that all Reebok treadmill models provide owners, which distinguish the brand from competitors' products.
Standard features of the best Reebok treadmill models
A Reebok treadmill offers several great features for runners. The iRun series, for example, has 12 preset programs and the ability to store three user profiles. The Jet 100 features adjustable speeds from 0 to 10 MPH and incline adjustments from 0 to 12 percent. Apart from these features, some standard features consumers will find throughout the family of Reebok treadmill models include: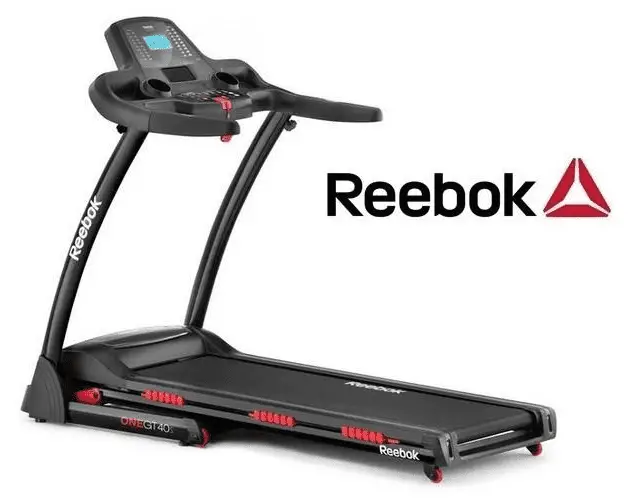 A powerful CHP (continuous horsepower) motor, ranging from 2.0 to 3.5 CHP
EKG heart rate sensors and up/down arrow buttons to adjust incline and speed settings
Foldable design and wheels for easy transport/mobility
A large, backlit LCD touchscreen to monitor metrics and set program/workout options
Integrated speakers and a water bottle holder
Some of the treadmills are also iFit compatible. This program allows owners to work out with a new personal trainer every day and change up their workouts daily. Owners can workout anywhere — from remote regions of the world to the comfort of their living room. Many models also feature an adjustable LCD monitor to allow owners to reduce glare while working out.
Each Reebok treadmill has its own distinguishing set of features. However, these are a few of the standard features consumers will find, from entry-level to the advanced models.
Reebok Treadmill Motor, Folding Mechanism, Weight Capacity, and Cushioning
A powerful motor is something that most consumers are looking for in a new treadmill. The newer versions of Reebok treadmills feature potent engines that are 3.0 CHP or higher. This level is sufficient to power the track for jogging or longer runs for distance runners. ZigTech cushioning is also a nice feature that many Reebok treadmill models feature. Each treadmill has a different cushion system, but each one will help reduce the impact on joints. This feature helps minimize shock absorption and allows runners to preserve energy for long workouts.
A folding mechanism and design make it easy to transport a Reebok treadmill to any room in the home. And, it folds away easily for storage when it isn't in use. Most of the treadmills Reebok manufactures also have a high weight capacity limit. Some models can hold users up to 400 pounds in weight. This figure is higher than most other treadmills, which have a 325-pound to 350-pound maximum. So, more users can workout on this treadmill safely, even if they're heavier than average weight users.
Reebok Treadmill Track, Workout Varieties, and Warranties
The tread belt on the Reebok treadmills is between 58 inches to 60 inches in length. This size is similar to treadmills in many commercial gyms. A lifetime warranty on the frame and motor are also available with the treadmills. Most of the newer models available offer a minimum of 35 to 40 preset programs owners can choose. This variety allows users to try something new each time they step foot on the treadmill. Or, they can always use the iFit subscription if their treadmill is compatible with the app.
How We Reviewed the Best Reebok Treadmill Models
We compared the best Reebok treadmill models against competitor manufacturers, to help consumers find the best product. In our review, we include details about Reebok, treadmill features, warranties, usability, and fitness programs. We also detail the design, quality, and pricing of these treadmills.
We then compared these treadmills to other top manufacturers' treadmills. In the review, we include customer reviews indicating the good and bad features of each treadmill. And, we compare the prices against Reebok's product line. This information provides consumers with sufficient details to help them pick the best treadmill in their budget range.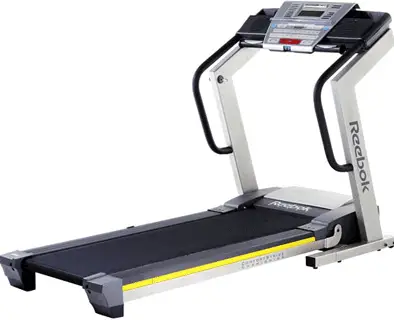 Average Price of a Reebok Treadmill
Reebok treadmills are available on Reebok's site, as well as other websites like Amazon and eBay. The price varies greatly depending on the model and series of the treadmill line consumers purchase. Most of the treadmills cost higher-end models. Commercial-grade treadmills are also more expensive than the entry models in the iRun and Jet series.
The Best Competitor's Product Lines
Although Reebok is a reliable brand and manufacturer, there are other great competitors in the treadmill industry as well. These are a few great, comparable treadmills to consider when shopping.
GoPlus 2.5 HP Incline Machine
[amazon box="B0725B6VSY"]
The GoPlus incline treadmill features a 2.5 horsepower motor and incline settings from 0 to 15 percent. It also adjusts speeds from 0.5 to 9 MPH in increments of 0.5 MPH. It features a shock absorbing tread track for running and jogging. This system helps to minimize the impact on runners' knees and minimize the levels of pain they experience. The treadmill is compatible with the G-Fit app to modify workouts regularly.
It is Bluetooth compatible also. The LCD monitor tracks calories, distance, workout setting, time, and other workout metrics. The fitness app will also keep track of the owner's heart rate during workouts. This feature is great for HIIT (high-intensity interval training) or heart rate training programs.
One reviewer indicates the incline adjustment isn't as high as the manufacturer claims. They also note that poor customer support makes it difficult to maximize the features of this product.
XTERRA Fitness TR150 Treadmill
[amazon box="B01M0L0D90″]
This folding treadmill has a large 16-inch by 50-inch running and walking belt. It features a large five-inch LCD monitor providing details about distance, speed, and workout settings. The speed ranges from 0.5 to 10 MPH, and owners can adjust this in increments of 0.5 MPH. It also includes 12 preset programs on this treadmill so that owners can modify their workouts regularly.
There are three manual incline settings on this treadmill. The low, medium, and high levels are easy to adjust. It is also great for owners of varying fitness levels so that they can build up endurance over time. There's a hand-pulse EKG heart rate monitor grip on the treadmill. It is foldable, so owners can store it away when not in use.
In this review, the customer indicates they got an E8 error message after assembling the treadmill. Upon contacting customer service, they had issues scheduling repairs. The customer notes it took too long to fix the treadmill, and customer service wasn't helpful in the process.
NordicTrack T 6.5 Treadmill
[amazon box="B0193V3DJ6″]
Like a Reebok treadmill, NordicTrack is also a leader in the fitness industry. So, consumers rely on the quality and sturdy design of this product. It has a 2.6 CHP motor and 20 built-in workout programs owners can select. The treadmill is also iFit compatible. This feature allows owners to use their subscription to challenge themselves and change up their workouts regularly.
The treadmill belt is 20 inches by 55 inches in size. The incline settings go from 0 to 10 percent, and speeds adjust from 0 to 12 MPH. The EKG heart rate monitor allows owners to monitor intensity levels during workouts. One-touch controls are another nice feature this treadmill offers. It will enable users to adjust speed, incline, and time (remaining) with the touch of a button. The treadmill also comes with a 25-year warranty on the motor and lifetime warranty on the frame.
The reviewer notes the treadmill is noisy while it is operating. They also indicate that the tread belt isn't smooth and doesn't minimize the impact on the knees. The tread belt squeaks when walking at lower speed settings as well.
Nautilus T618 Treadmill
[amazon box="B077J3F1DK"]
This treadmill is Bluetooth compatible. It connects instantly with the Nautilus Trainer 2 app so that owners can keep track of workouts and their progress. RunSocial also allows owners to run in 19 different locations around the world, from their home. The incline settings adjust from 0 to 15 percent, and the treadmill includes 26 built-in workout modes owners can set. Speeds also change from 0 to 12 MPH on this treadmill. Side push buttons on the handrails allow owners to adjust speed and incline settings easily.
The 3.5 CHP motor is powerful enough for long runs and jogs, even if owners are working out daily. A wireless heart rate strap comes with the treadmill allowing owners to track metrics on the apps. A blue, backlit LCD is easy to read and keeps track of workout metrics so that owners can track progress. The rebound deck cushioning is a great feature to help reduce pain and discomfort when running. The running track features a soft landing bed, so owners don't injure or overexert themselves when working out.
One reviewer notes this treadmill is exceptionally light and fragile. The frame's construction is similar to that of a treadmill that's half the price of this product. It is also costly, but lacks in the quality consumers would expect for the price point. This reviewer also notes the troubles they're dealing with trying to schedule repairs with Nautilus customer service.
Reebok Treadmill or the Competitors?
You have many options when it comes to buying a new treadmill for your home gym. If you value quality, brand-name recognition, and don't mind paying a high price tag, Reebok has great products. Their treadmills have multiple workout programs, app connectivity, and the backing of one of the biggest industry names. Additionally, they feature lifetime warranties on the motor and the frame, and a couple of years for parts and labor. Depending on space limitations, and your budget, there are some great Reebok treadmills to purchase for a home gym.
For consumers looking for a more affordable alternative, the GoPlus 2.5 HP Incline Machine is a good choice. It has a shock absorbing tread belt to help minimize the impact you feel on your knees and joints. It also has G-Fit Bluetooth connectivity, a large LCD to adjust workout settings, and a foldable design. The 2.5 horsepower motor is powerful enough for jogging and running regularly also. The incline adjusts from 0 to 15 percent and speeds up to 9 MPH.
There are many treadmills to choose from, so you must take enough time to compare them before buying one. It's also important to examine the best features each treadmill offers its users. A Reebok treadmill is one of the best products available but is expensive. These are some alternatives for consumers looking for the best equipment, in any price/budget range.